A Kansas family is planning on filing a lawsuit after a relative died of an allergic reaction to a COVID-19 vaccination last year.
Jeanie Evans, 68, died on March 24, one day after she received the Moderna vaccine, prompting an investigation by the Kansas Department of Health and Environment (KDHE). While vaccine-related deaths are rare, serious adverse reactions to the inoculation have been reported to the Centers for Disease Control and Prevention (CDC).
An autopsy report acquired by the Topeka Capital-Journal confirmed Evans died of "anaphylaxis due to COVID-19 vaccination." The 68-year-old reportedly had a history of hypertension, allergic disorder, environmental allergies, and reactive airway disease. She previously had an allergic reaction to Albuterol, a drug used to treat wheezing and shortness of breath, according to the autopsy report.
Evans received the first dose of the Moderna vaccine against COVID-19 on March 23. About 20 minutes later, she started to complain that her airway was obstructed, per the Topeka Capital-Journal.
A statement from the KDHE confirmed a woman experienced anaphylaxis at a vaccination site. The statement didn't mention Evans by name but said the woman was taken to the hospital.
The day after her vaccination, Evans died "unexpectedly" at Stormont-Vail Hospital, an obituary for the 68-year-old said.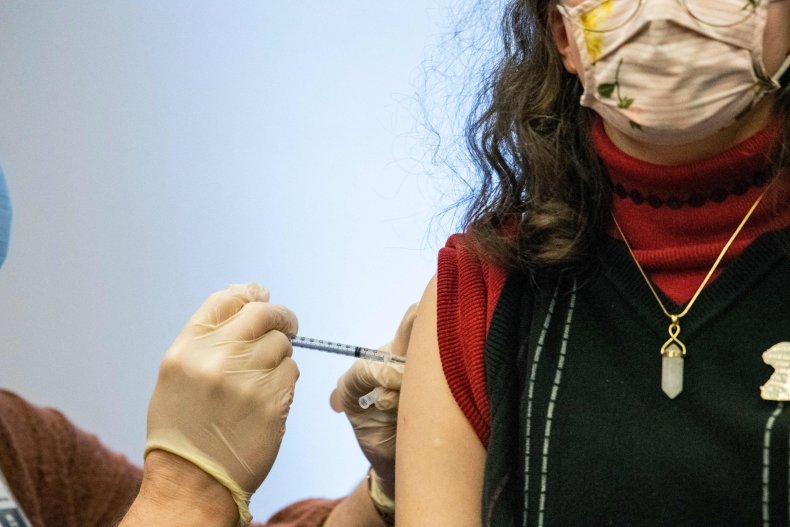 The KDHE launched an investigation into Evans' death, as it does with any death that's entered into the Vaccine Adverse Event Reporting System (VAERS). VAERS is a national vaccine safety monitoring system that allows people to report any adverse events, ranging from sore arms to deaths.
Newsweek reached out to the KDHE for comment on the autopsy results and the investigation but did not receive a response in time for publication.
Anaphylaxis, a severe life-threatening allergic reaction, after a COVID-19 vaccination has occurred in about 5 per 1 million vaccinated people in the United States, according to the CDC. About 251,312,000 people in the United States have received at least one dose of the COVID-19 vaccine, meaning about 1,256 people have experienced anaphylaxis due to the COVID-19 vaccine in the United States, so far.
Adverse reactions to the COVID-19 vaccine have taken center stage in the argument against vaccine mandates. Some have said that such effects aren't getting enough attention amid the push to increase vaccinations. Others, however, argue that the risk of dying from COVID-19 far exceeds the risk of having a serious complication from the vaccine.
Colt Umphenour, one of Evans' sons, told the Topeka Capital-Journal that the family plans to sue for the wrongful death of his mother. The family hired attorney Lynn Johnson last year, but he decided not to seek legal action for his client.
Umphenour told the news outlet that Johnson still encouraged the family to pursue the case and that they're actively looking for a new attorney.