Woman Plunges to Her Death From 150-Foot Cliff Next to Crowded Beach
A woman has died after falling off a cliff next to Durdle Door, one of Britain's most popular coastal landmarks.
The woman fell around fell around 150 feet on Monday at around 3.07 p.m., after stepping on loose rocks on the cliff by the famous landmark in Dorset, south-west England.
Witnesses told The Guardian she was apparently trying to take a shortcut before she lost her footing on loose rocks.
"People on the cliff and on the beach were shouting at her to stay still. The rocks were coming loose under her feet then she just bounced down," one witness, who asked not to be named, told the newspaper.
Another visitor, Eleanor Edwards, said: "She was climbing down the cliff thinking she could get to the beach. Everyone was telling her to stop and there was nothing anyone could do. It was extremely saddening to witness."
Dorset police said it was investigating the incident, adding that the woman was pronounced dead at the scene.
A Dorset police spokeswoman said: "At 3.07 p.m. on Monday, Dorset police received a report that a woman had fallen from a cliff at Durdle Door near Lulworth. Officers attended together with other emergency services colleagues. Sadly, the woman was pronounced dead at the scene. Officers are investigating the circumstances of this tragic incident."
A spokeswoman for Dorset and Wiltshire fire and rescue service said: "We attended this incident in support of police and coastguard colleagues. We were called at 3.14 p.m. after reports that someone had fallen from height at Man O'War beach. Crews from Bere Regis and Dorchester attended, along with a technical rescue team from Weymouth."
James Weld, owner of Lulworth Estate—which includes Durdle Door—told Newsweek: "Although Dorset Police are investigating, the reports we have received this morning would suggest that this was a tragic accident as a woman attempted to climb down the cliffs above Man o' War beach, despite many endeavouring to call to her to stop and stay where she was. Whatever the circumstances, such a tragedy affects us all and our hearts go out to her family."
"The emergency services responded promptly to the many calls they received," Weld added.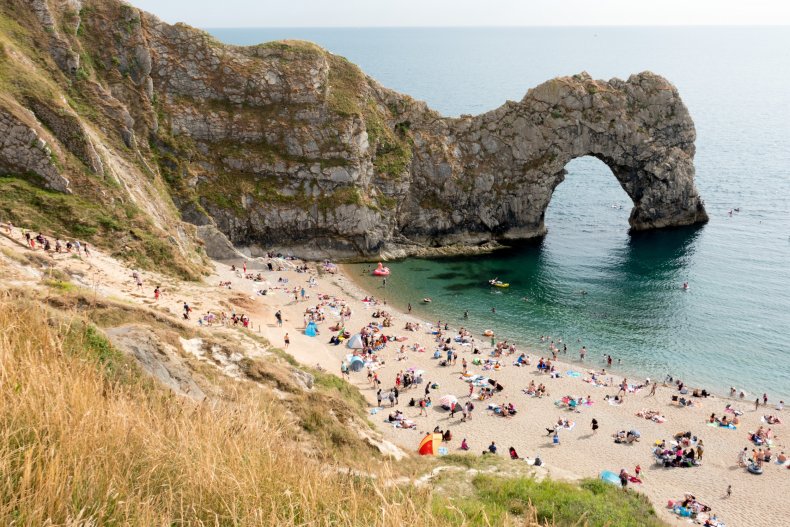 Newsweek has also contacted the Dorset police for more information.
Durdle Door, a 130 foot arch situated on Dorset's Jurassic Coast, is a hugely popular destination for beachgoers, as well as adrenaline junkies.
Sadly, people often get injured or die there when "tombstoning"—leaping off a cliff into the sea below.
In May 2020, three people were critically hurt jumping 70 feet from the landmark arch. The three men were all in their 20s.
Police have repeatedly warned people not to jump off the cliff.
The Sun reported in 2020, that there had been at least 20 deaths caused by tombstoning since 2005 in the U.K. alone—and at least 70 more people have been injured from it.
Many jumpers make the mistake of believing that the water is much deeper than it really is, meaning often they can strike hard rocks and other hazards.
Asked about dealing with "tombstoners," Weld told Newsweek: "Our car parks and routes to the coast have warning signs to stay away from the cliffs and to avoid sitting directly beneath them. We would re-emphasize our safety messages for visitors to respect the inherent risks of our natural environment whether the sea or the cliffs themselves. Far too regularly warning signs are ignored, even when reminded by our Rangers, on occasions leading to unnecessary and tragic consequences when they have come to enjoy the Dorset coastline."