Woman Dies After Smoking Synthetic Marijuana Laced with Poison, the Latest Case in Tainted Drug Outbreak
A 33-year-old Wisconsin woman died after she ingested synthetic cannabinoids, also known as K2 or spice, that contained rat poison, officials confirmed Wednesday. Hers was the state's first recorded death linked to the drug, which killed four others in Illinois and injured hundreds more over several months.
The Milwaukee County medical examiner's office found synthetic marijuana, methadone and cough suppressant in the woman's system upon her death in early July. At least 45 people in the state have been sickened by the poison-laced "fake weed" since March, the Wisconsin Department of Health Services said.
In May, the Centers for Disease Control and Prevention issued a health advisory that warned of a surge in hospital admissions for "serious unexplained bleeding" linked to use of synthetic cannabinoids laced with toxic chemical brodifacoum, an anticoagulant found in rat poison that slows blood clotting. Two hundred and two cases across eight states were reported of patients with blood spurting from their ears and eyes, which began in Illinois in February and swelled to 164 hospital admissions by May 25. Maryland reported 20 cases, and the remaining states reported six or fewer cases, the CDC said.
The drug's reach has spread: In less than two weeks, more than 300 people overdosed on K2 in Washington, D.C, NPR reported in July. Some of those admitted died over the 12-day span, though their causes of death have not been confirmed by the chief medical examiner's office.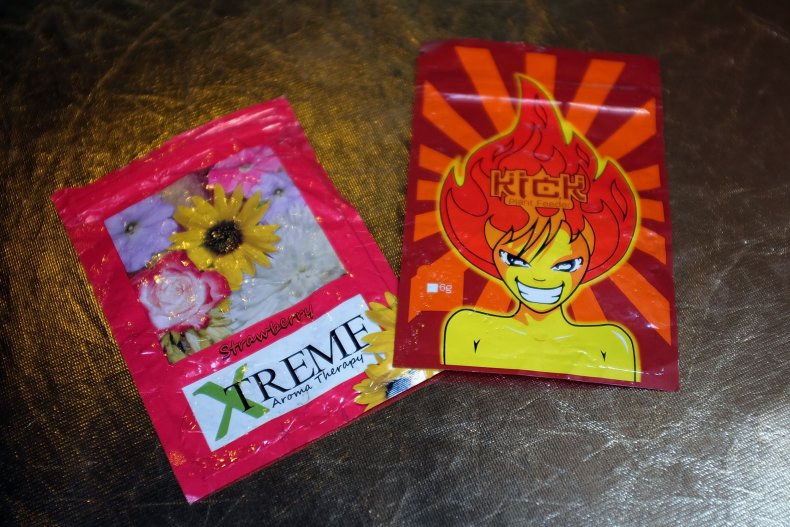 The synthetic cannabinoids are made with chemicals similar to those found in marijuana and sprayed onto shredded plant material that can be smoked. The Drug Policy Alliance said the term "synthetic marijuana" is "misleading," since it doesn't contain the marijuana plant but similar psychoactive chemicals that produce a much more powerful effect. A 2017 study of "AK-47 24 Karat Gold," a synthetic sold in a Brooklyn neighborhood that turned users into "zombies," found the man-made cannabinoids were 85 times more potent than THC contained in marijuana.
CDC physicians wrote that users sometimes prefer the synthetics, often labeled as "not safe for human consumption," because they go undetected in routine drug tests and are usually cheaper than marijuana. Both drugs are classified as Schedule I substances by the Drug Enforcement Agency, or those that contain no medicinal value and present a high potential for abuse. Despite this, they're often sold in colorful packaging with clever names under the label of marijuana, but because the drugs are illegal, there is no regulation over what chemicals they can contain.
"When you go to a pharmacy, you're buying a measured drug, it's regulated," Department of Forensic Sciences director Jenifer Smith told NPR. "You have no idea what you're buying and it's not in any way controlled when it's made. It's very, very dangerous."