Woman With Down Syndrome Loses Fight to Strike Down 'Extremely Offensive' Abortion Law
A campaign started in 2020 by a woman with Down Syndrome against a near six-decade-old abortion law came to an end on Thursday.
Heidi Crowter, along with Máire Lea-Wilson, whose son Aidan has Down Syndrome, and a child with Down Syndrome identified only as A, took Sajid Javid, the Secretary of State for Health and Social Care for the UK to court over abortion regulations.
According to The Guardian, they challenged the Abortion Act 1967, which states that abortions in England, Wales and Scotland can be performed up to 24 weeks into a pregnancy unless "the mother's life is at risk or the child would be born with a severe disability."
On Thursday, Crowter's case was dismissed and it was determined by two senior judges that the legislation was not unlawful and stated that a "very difficult balance has to be struck by Parliament between the interests of the foetus and the rights of women."
Before heading into court back in July, Crowter said, "I find it extremely offensive that a law doesn't respect my life, and I won't stand for it," The Guardian reported.
Crowter told Sky News last October the law made her feel as though she were better off dead.
Crowter was featured on the newscast along with her younger sister, Suzie, to discuss the case.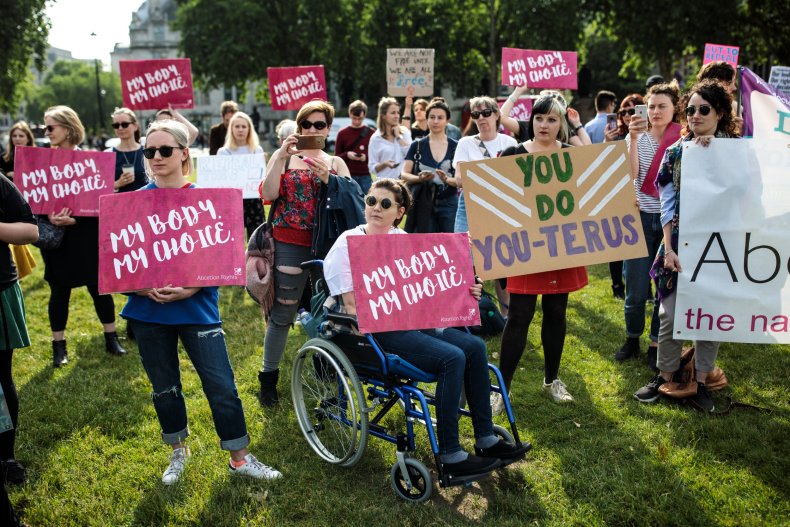 Suzie said the hope for the suit was to make the law equal, so that all pregnancies, no matter their diagnosis, were held to the same standard.
During the interview, Heidi said she understands some people feel pressured to have an abortion after finding out their baby will have Down Syndrome and even reflects on her own mother's reaction to her diagnosis.
She said when she was born her mother was upset and worried Heidi would never get married.
Heidi was married in July 2020.
In the United States, approximately one in every 700 babies is born with Down syndrome – about 6,000 each year, according to the National Down Syndrome Society.
According to the Mayo Clinic, Down Syndrome can be detected in a fetus starting at 10 weeks through Chorionic villus sampling (CVS) and later, around 15 weeks through Amniocentesis.
Throughout the United States, some states have tried to push bills that would totally prohibit abortion if the sole reason was a diagnosis of Down Syndrome. Just this week, the conversation ramped in Missouri over a bill that was passed and then blocked in 2019, according to Fox 2 Now.
The law would put restrictions on abortions after eight weeks and based on a Down Syndrome diagnosis. On Tuesday, ​​11 members of a federal court of appeals heard the case, Fox 2 Now reported.
Tamara Pursley, the Programs and Partnership Director for the The National Down Syndrome Congress, told Newsweek that while they do not take a pro-life or pro-choice stance because at the end of the day they are "pro-Down Syndrome."
"Hats off to her for her advocacy," Pursley said of Crowter's case. " But it does sadden me a little personally and I think as an organization, that there are still the antiquated belief that having Down syndrome is a severe disability or profound disability."
Pursley says that bills that have been proposed across the country risk hindering open and honest conversation between doctor and patient.
"If the doctor is facing charges for performing an abortion then they may not provide all the information that they could," Pursley said. "So we feel, that that's really the most important thing. Getting the accurate and up-to-date information into the hands of people so that they can make an informed decision."
She said that while the life expectancy for individuals with Down Syndrome was 25 in the 1980s, it's now over 60.
"There's opportunities out there, you know, more and more every day for people to be fully included in the community, '' Pursley said. "As they should."
Newsweek contacted NARAL, Pro Life Across America and the National Down Syndrome Society but they did not respond in time for publication.