Woman Dumps Shark Head She Bought for $11 in Ohio River, Apologizes for Alarming People
The disembodied head of a shark has been found along the banks of the Great Miami River in Piqua, Ohio.
The gruesome discovery was made by walkers, who posted pictures and video footage of the shark head on social media, where it has fueled speculation that large sharks may be swimming in the river, and that this particular animal could have been killed by an even larger predator.
However, the truth was more farcical than frightening.
Jamie Gambill and Haley Weidner both posted images of the shark head on social media on Monday.
"Look what my brother in law found down by the river in Piqua!!!! WHAT!!!!" Gambill wrote in a post on Facebook.
"I know this is graphic, but does anyone know what this is?? I went on a walk by the Miami River. It looks like it was bit in half," Weidner posted later the same day.
Weidner, who described the smell as "so bad," reported the discovery to local wildlife officials, who told her that they had "already received a call" about it.
"The owner of the head has been found. This was not, in fact, roaming the waters of the Great Miami waters. You are all safe!" she posted as an update.
So where had the shark head come from? Some social media sleuths speculated that it had been taken to Ohio and dumped by the side of the river by somebody who had caught it at sea.
They were also wide off the mark. Step forward Natalie Siler from nearby Huber Heights.
"THIS IS ALL A MISUNDERSTANDING," she commented on Weidner's Facebook post.
"I BOUGHT IT TO FISH FROM JUNGLE JIMS ITS A SHARKFIN SHARK AND I PUSHED IT IN FOR THE FISH TO FINISH EATING AND IT WASHED BACK UP IM SO SORRY!!"
Siler, who said she came forward because "people will be afraid to kayak in the River now," has also posted pictures of a shark head that appears to match the one photographed by Gambill and Weidner, as well as a video that shows a shark head being pushed into a river with a stick.
"For anyone seeing this I bought it and threw it in for the fish to eat, I'm so sorry," Siler wrote in a separate post on Facebook.
She said she bought the shark head from Jungle Jim's, a supermarket in Fairfield, for $11.
"I was walking down a little hill to go see the river when I spotted the shark head. I thought it was a fake toy at first so I walked a little further. And then I smelled it and investigated," Weidner told Newsweek.
"I was surprised to see it. I kept telling myself that it wasn't a shark because the probability was so low. I also felt a little uneasy, because I thought maybe something in the water close to me ate that shark..."
Miami County Wildlife Center told her that they thought "someone may have brought it up from Florida and not to worry...by that time, however, the whole city of Piqua was worried because the [Facebook] post had so many shares.
"But no, I haven't ever seen anything like that before. It was nice to get a little excitement in this small town!"
Newsweek has contacted Natalie Siler, and this article will be updated when we hear back.
This isn't the first shark-related mystery to take Ohio by storm.
In recent years, rumors about a shark washing up on an Ohio river boat ramp and a 12-foot bull shark being reeled in near the village of Shadyside have been proven to be false.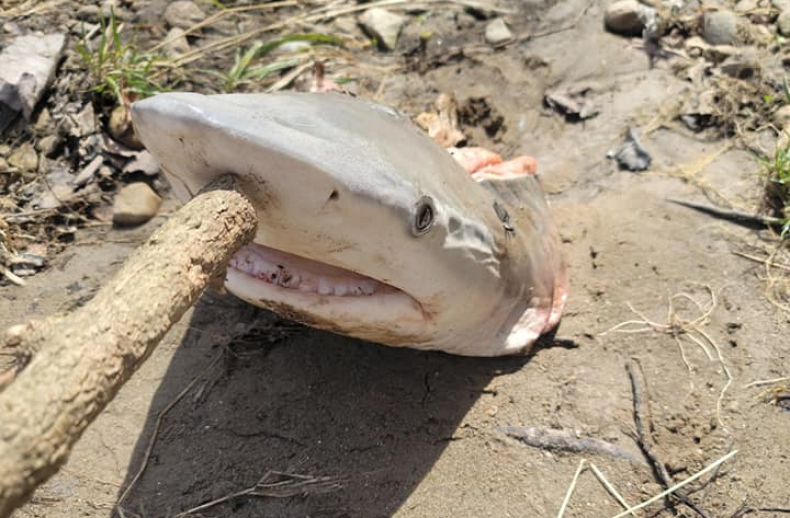 Update 3/23/21, 10:58 a.m. ET: This article was updated to include an image and quotes from Weidner.