Woman Flying to See Her Dying Mother Gets Upgrade to First Class, Is Only Passenger on Flight
Sheryl Pardo had received bad news: her 83-year-old mother's health was deteriorating.
Pardo planned a trip to Boston knowing it would likely be the last time she would see her mom.
What she didn't expect was the warm reception she received from the attendants, Jessica and Dion, or the fact that she was the sole passenger aboard American Airlines flight 9389, departing from Washington D.C. on March 27.
Pardo had been anxious about flying during the pandemic, AZfamily.com reported. This nervousness quickly dissipated when she arrived at the airport, telling CNN she realized it was safer than going to a grocery store.
"I think we all have this attitude of airplanes are really dangerous, and there would be exposure, but there was nobody there," she said.
There was nobody on the plane either, except for the crew. Jessica and Dion upgraded Pardo's seat to first class and spent the flight lifting her mood by swapping life stories, talking about her mom, taking selfies, and laughing about the fact that Pardo was the only passenger on the plane.
Jessica gave Sheryl, "the only passenger on the flight," a personal shout-out on the airplane loudspeaker.
"I want them to know how much it meant to me," Pardo told CNN. "It was super positive, which I didn't expect from that trip."
According to CNN, Pardo's mom, 83, was suffering dementia and her health was deteriorating. Pardo was able to spend a day with her mother before she died on March 28.
"She was living in a stage of life she would not have wanted prolonged, and she was in hospice," she said. "(Jessica) was like the perfect antidote."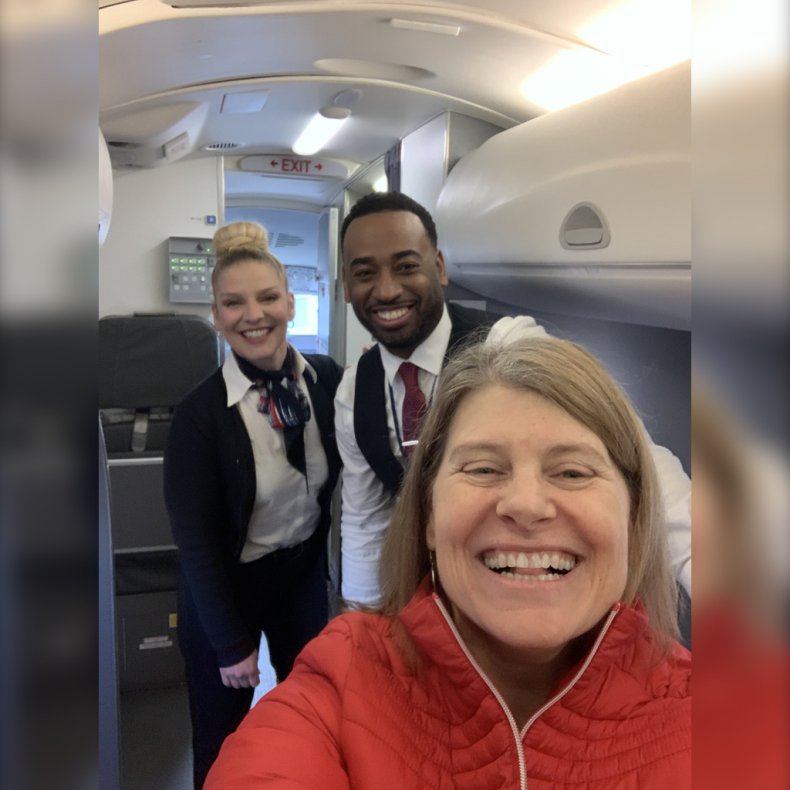 Over the past few weeks, several operators have suspended flights as people are encouraged to self-isolate amid the outbreak of the novel coronavirus.
An analysis from The Guardian, based on data from Flightradar24 (a live air traffic tracker), found worldwide air travel for the week starting March 23 was more than half of a "typical March week" in 2019.
American Airlines is suspending 60 to 70 percent of its domestic flights and 70 to 80 percent of its international flights this month compared to April last year. Capacity is expected to be even lower in May, when the company is planning to reduce domestic and international flights by 80 to 90 percent.
However, Vasu Raja, American Airlines' senior vice president of Network Strategy, recently told Reuters the airline has no plans to cease operations altogether, pointing out the need medical workers and others who may have to travel.
"The important thing is to provide a minimum level of essential service to customers... but we do it in such a way where we don't burn an excessive amount of cash," he said, explaining gross bookings had fallen to "zero."
The article has been updated with photos.