Woman Evicted After Hurling Racist Abuse at Black Soldier
A woman in North Carolina has reportedly been evicted from her apartment after she was captured on video hurling racist abuse at a Black soldier.
Diamonte Ugbesia told WTVD-TV the incident with the women happened when he was visiting a friend at Kings Cross Apartments in Fayetteville last Thursday.
He pulled out his cell phone and started filming when a woman started yelling racial slurs at him after he got out of his car.
"I hate Black people. I hate [n-words]. I hate Black people," the woman was heard saying in the video Ugbesia filmed.
The woman told Ugbesia to stop filming her, before continuing to shout racial slurs at him.
"You get the f*** back down. I don't want anything to do with you. Don't record," she said. "You better kill that [n-word]," she added to another man standing in the hallway.
"Stop calling him that," the man is heard telling the woman. "Let him go, just go inside."
"I will never [expletive] a Black person ever in my life," she said. "Get the f*** down. He's, like, taking a picture of me right now."
"Because you're being ridiculous," the other man said. "No, because he's stupid," the woman replied.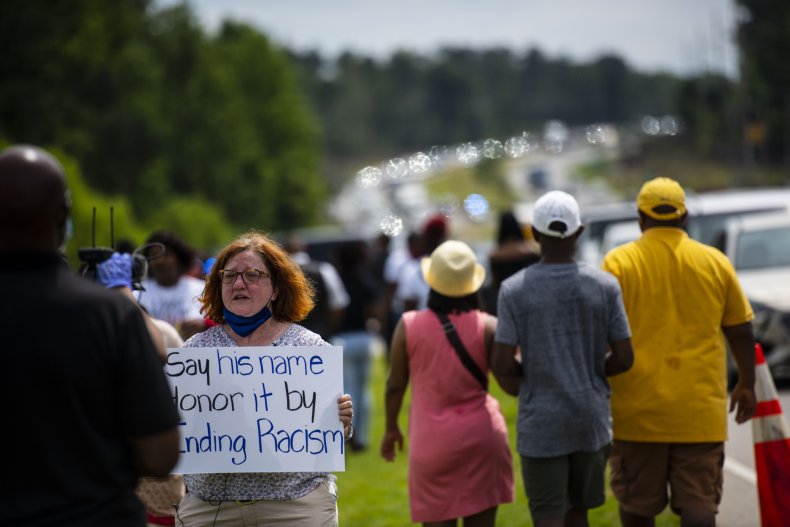 Ugbesia, who is based in Fort Bragg in Fayetteville, told WDTV-TV he was stunned by the encounter.
"I never heard somebody flat out call me the n-word or say they hate me," he said.
"I got deployed to Afghanistan. Me coming home from Afghanistan serving my country to someone saying they hate me based off my skin color? That's the number one thing I was mad about. You don't even know me."
Ugbesia and Fort Bragg have been contacted for comment.
According to the station, Kings Housing Management sent an email to tenants on Friday informing them that they had taken action to evict the woman in the video.
"We have a zero-tolerance policy for inappropriate behavior or failure to live in a cooperative manner," the email said.
It added that the woman's actions violated her lease agreement as well as "the ethical standards of our community and company and will not be tolerated."
The email said the company had taken "immediate legal action to terminate the tenancy of the resident in violation" and also reported the incident to the Fayetteville Police Department.
Officers would be patrolling the complex until the woman has vacated her apartment, the email added. Kings Housing Management and the Fayetteville Police Department have been contacted for comment.
The incident comes amid heightened awareness on racial injustice across the U.S. following weeks of sustained protests set off by the killing of George Floyd, a Black man, in Minneapolis police custody in late May.