A woman who came face-to-face with an agitated monkey involved in a massive crash last week is now experiencing symptoms.
A truck carrying a trailer of 100 monkeys imported from Africa to a lab was involved in a crash with a dump truck in Montour County, Pennsylvania last Friday.
Michele Fallon witnessed the crash and quickly pulled over to help the driver, she told local news station WOLF-TV.
While Fallon was helping, she came across one of the crates, which she believed was carrying cats at the time, according to the news station.
"So I go over to check the cats out, and I'm sticking my finger in because I see the fur. Then I hear this weird grunting noise and it pops up, and I'm getting really close to it and I hear a monkey doing a hissing noise. I backed away and I told the guy that they were not cats, they were monkeys," she told the news station.
She later received a letter from the Centers for Disease Control and Prevention, urging her to monitor her health for any symptoms of an infectious disease due to the close interaction.
Fallon became concerned because she has a cut on her hand and began experiencing pink eye symptoms, so she went to the emergency room at a local hospital, she told local news station WBRE-TV. She is now taking preventative medicine for about two weeks and received her first dose of the rabies vaccine.
"Because the monkey did hiss at me and there were feces around, and I did have an open cut, they just want to be precautious," she told the news station.
She told the news station she had no idea her attempt to be a Good Samaritan would result in potential health concerns.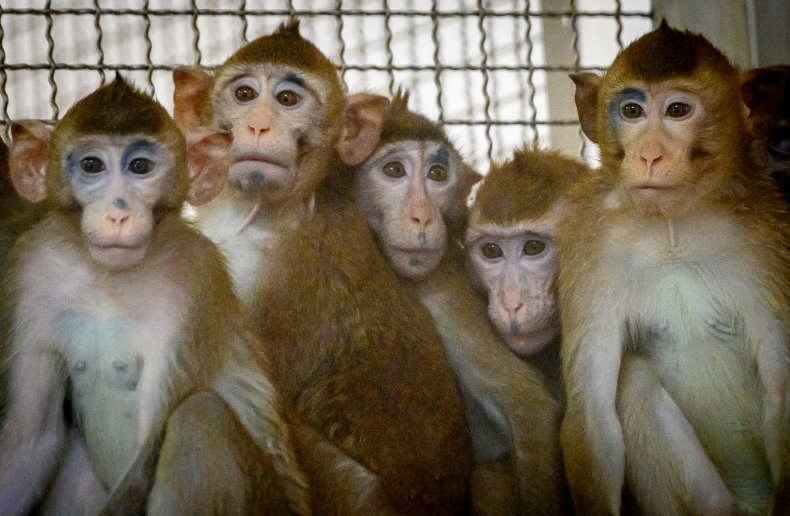 "I thought I was just doing the right thing by helping," she said.
She added that the truck driver never told her to not go near the crates.
"He just asked if his trailer was okay. He never said, 'If you do come near a crate do not touch it,'" she said. "If he would have told me that, I would have been more careful."
Three of the monkeys escaped during the crash and were later euthanized. All of the monkeys had been accounted for by late Saturday, according to the Associated Press. They were a breed called macaques and arrived in the U.S. from Mauritius, according to local news station WNEP-TV.
The CDC warned during the search that the escaped monkeys posed a health risk to the public and can pass along deadly viruses to humans, the news station reported.
Newsweek reached out to Fallon for further comment.