Woman Exposing 'Pressure' of Tipping Culture Stirs Debate: 'Out of Hand'
A woman's video poking fun at tipping culture has gone viral and sparked a conversation among viewers.
TikTok user @aubreygracep posted the video to her account where it amassed nearly two million views in just five days. You can view the video here.
"The awkward moment when they can see what you're tipping," the video caption read.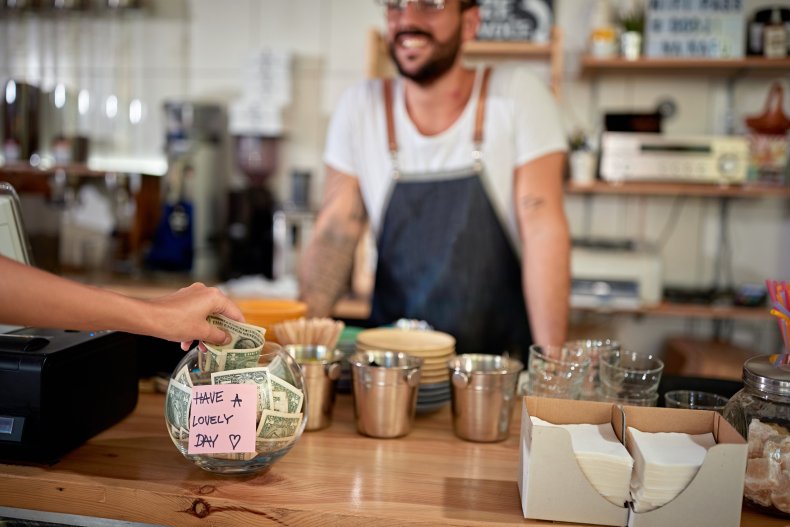 According to Emily Post Institute Inc., there are a number of instances where tipping is expected, and one that is noted is within the food service industry.
In the event that someone is at a restaurant and receives service from a waiter or waitress, customers are encouraged to tip between 15 and 20 percent before tax.
An appropriate tip for a bartender is $1 to $2 per drink or 15 to 20 percent of the tab.
But if a tip jar is left out, the organization said there is no obligation to leave a tip.
"Occasionally if your server or barista provides a little something extra or if you are a regular customer," the organization said.
In the skit, a woman posing as a service employee slid an iPad toward the "customer" after telling her the total for her drink.
"Insert your card, and it will ask you just a few little prompts here," she said.
The screen displayed three different tip options for the "customer" to pay, in addition to a custom tip amount and the option to not leave a tip.
The "customer" reached out to press the option not to leave a tip, but the "employee" is seen peering over the screen.
Once the "customer" realized she was being watched by the "employee," she paused and hovered her finger over the tip option amounts.
The video concluded just as the "customer" was poised to select the option to leave a 25 percent tip.
"The pressure to tip," read the text over the video, which prompted viewers to weigh in with their thoughts in the comments section.
'Out of Hand'
"I used to feel so awkward but now I just hit the no tip and walk away," a viewer wrote.
"This tipping culture is getting out of hand," another comment read.
"Nah cus I be smashing that no tip button and staring [them] right in the eye cus unless they r a server I'm not tipping u," a TikTok user wrote.
One viewer said they bought frozen yogurt and made the order themself and was prompted to tip the employee.
Some viewers, however, encouraged customers to tip employees.
"The sucky thing is, companies should be paying [their] employees more," one comment read. "Instead baristas have to rely on tips to earn a living wage. So yes, please tip."
"Bartenders make your drink, so do baristas," another viewer wrote. "I see no difference. If you have a problem with it, blame America's tipping culture."
A viewer wrote that it is equally uncomfortable for employees to give customers the option to tip.
"I know it's a joke but these people are just trying to do their job," read a comment. "Often they don't get a say what comes up on the screen."
Newsweek reached out to @aubreygracep for further comment.
Tipping Culture In The News
The conversation around tipping culture is not new, and many have shared their thoughts on the matter in viral internet posts.
A waitress showed three paychecks she received, one of which she earned just $0.01, in a viral TikTok video.
Another video showed a customer who said she believes tipping culture was "out of control," a sentiment many viewers agreed with.
One video showed a pile of brown paper bags that were reportedly not collected by delivery drivers because the customer did not leave a tip on the orders.