Internet in Stitches After Woman Tries Eyebrow Stencil on Golden Retriever
A woman who gave her dog an unusual makeover has left the internet in stitches after her video on TikTok went viral this week.
On Tuesday, TikTok user kneecoletsheano posted the video, which can be seen here, that now has more than 10 million views.
In the video, the TikToker is seen with an eyebrow palette and stencil. She says: "I just got this thing. It's called three-second brow and it has this little palette on the bottom and two brow shapes, and all you do is dab it in and then you lay it on like–," as the voiceover cuts off, the video cuts to a shot of a golden retriever sporting a very human set of eyebrows.
"I've never laughed this hard," joked one commenter. While another TikTok user wrote: "It's giving Lady Danbury from Bridgerton."
"Tomorrow's forecast calls for a 100 percent chance of me doing this to my golden," said another commenter. "I didn't know I needed this," said another.
While dogs don't usually have such clear eyebrows, their adorable eyes are a big part of our connection with our canine friends. A new study from Duquesne University in Pittsburgh, Pennsylvania looked into what makes dogs' faces so appealing to humans.
The study noted that dogs are unique from other mammals thanks to their reciprocated bond with humans, demonstrated through a mutual gaze—something not observed between humans and other mammals.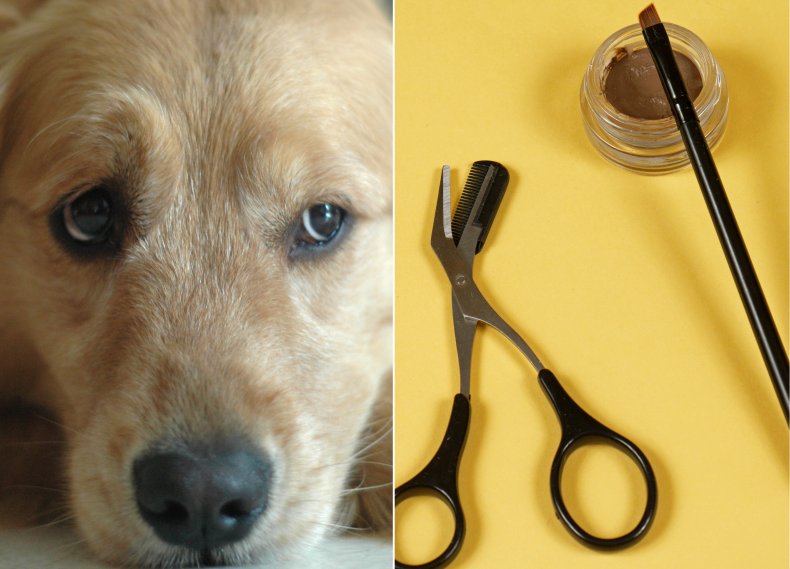 Focusing on the tiny muscles that make up a dog's face and facial expressions, in humans these muscles are dominated by fibers that contract rapidly but also fatigue quickly—often called "fast twitch fibers." Research found that like humans, domestic dogs and wolves have a high quantity of fast twitch fibers, while wolves have a higher percentage of slow-twitch fibers meaning that they have less facial mobility but can hold expressions for longer.
"These differences suggest that having faster muscle fibers contributes to a dog's ability to communicate effectively with people," explained the study's senior author Anne Burrows, PhD. "Throughout the domestication process, humans may have bred dogs selectively based on facial expressions that were similar to their own, and over time dog muscles could have evolved to become 'faster,' further benefiting communication between dogs and humans."
This could explain why the viral TikTok video looks a lot like the pup is playing to his new look. One commenter pointed out: "The way he was raising them," while another commenter joked: "It's tested on animals?"
"Best video I have seen in a while," said another commenter. Another TikToker said: "Look at this distinguished gentleman."
This week, another golden retriever has melted hearts online after a video of him meeting the family's new baby went viral.
Newsweek has reached out to kneecoletsheano for comment.