Woman Fighting Leukemia Gets Her Last Wish, Marries Her Boyfriend from Her Hospital Bed
Not every cancer patient is able to achieve their biggest goals in life, but a woman named Alysia did just that on Wednesday. The 33-year-old leukemia fighter received her "dying wish" when staff at Las Vegas' Southern Hills Hospital made her dream of marrying her boyfriend come true.
Alysia married boyfriend Daniel in the hospital this week according to KVVU-TV, a local Fox News affiliate. Because of her condition, which has kept her in the hospital for a month, the woman was unable to leave the hospital for her wedding ceremony. That meant the Las Vegas Marriage Bureau had to make a special trip to wed the lovers.
In a video captured by the station, Alysia was seen wearing a wedding dress over her hospital gown, and holding a bouquet of flowers. Daniel sat on the bed beside her and the two shared a kiss and heartfelt "I love you" as a clergy member presided over their hospital wedding.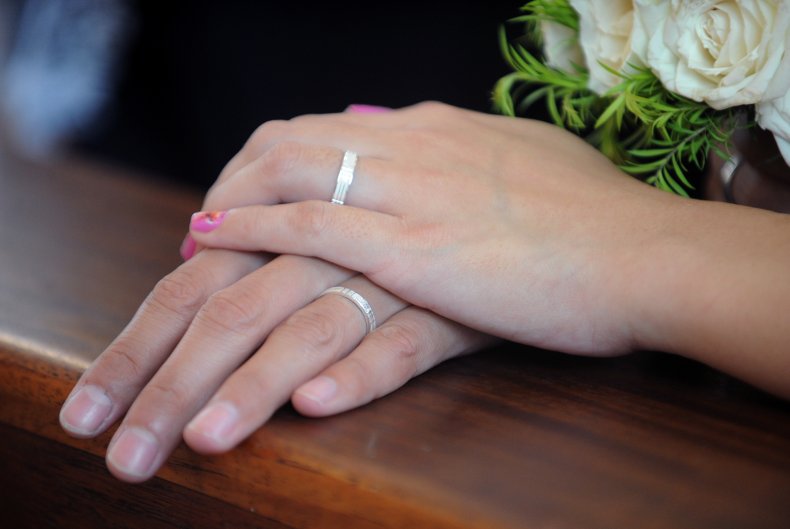 In the presence of doctors and nurses, who took photos of the beautiful moment, Alysia and Daniel became husband and wife.
Assistant Chief Nursing Officer at Southern Hills Hospital and Medical Center, Kelli Wray explained why this moment was important, not only for the couple but for the hospital. "This really puts the words in sickness and in health into perspective," she said. "At Southern Hills Hospital we have a saying, 'care like family'. With each patient we think, 'what would we do for our family?' That's what we did here."
Southern Hills Hospital has strict visitation guidelines in the wake of COVID-19 and that restricts visitors from entering the hospital to share moments with their loved ones. There are a series of exceptions, though, which may have been why Daniel could attend his wedding.
Some of the exceptions allow one adult, over the age of 18, to visit in a variety of hospital wards like women's services, which encompasses labor and all things neonatal, according to their website. It's unclear which guidelines Daniel would have fit in to visit Alysia. A possible option would suggest Alysia is near the "end of life," an official status given to terminally ill patients.
Though Alysia's marriage has been described as her "last wish," leukemia isn't always a fatal cancer. This cancer is specific to the blood and sees a major increase in white blood cells. This restricts red blood cells from forming correctly and successfully working through the body. Which types of blood cells Leukemia effects can differ by person, though, according to the American Cancer Society. Treatments include chemotherapy and radiation therapy, among others.
This article was updated to include a comment from Kelli Wray.