Woman Filmed Attempting to Lure Asian Man's Dog Into NYC Traffic Over Clash
A woman apparently tried to lead a man's unleashed dog into traffic in New York City after allegedly making a racist remark towards him, video shows.
The clip, originally posted to Reddit, shows a woman, who appears to be in workout clothes, standing near a busy city highway. She asks the man filming if he has a leash for his dog. She repeats her question when a bystander takes notice of the situation.
"Have you never heard of a leash in the city?" the woman says in the clip. "We'll wait for the police to clear it up."
The man, who is described in the video as someone of Asian descent, tells the woman to go ahead with calling the police, but she crosses her arms and says she was waiting for the cops to drive by.
The man then tries to get the woman to repeat a racist remark she allegedly said to him before he started filming.
"Which country should I go back to, Karen? Say it," he says. "Cat got your tongue?"
The man refers to the woman several times as "Karen," seemingly used as a form of insult rather than the woman's actual name.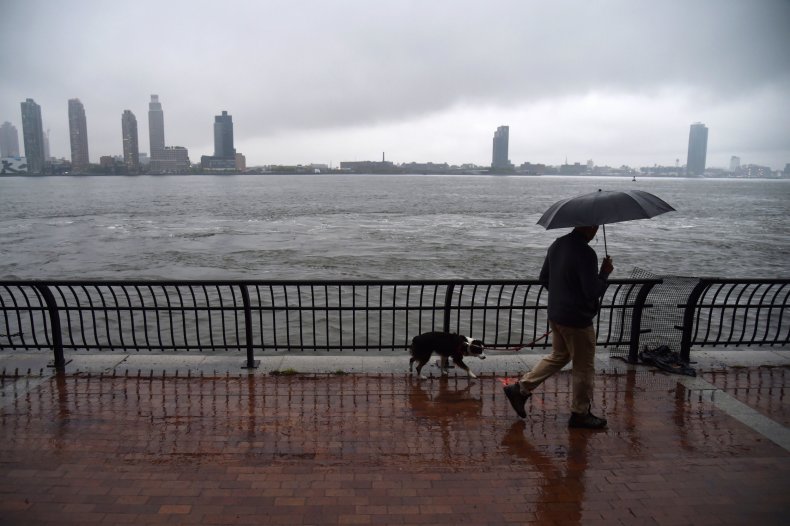 She then tells him to "edit it out," and the man questions her on what she wants to be edited.
Before she can reply, the woman begins backing into the street, shouting and clapping her hands. She calls for the man's dog to follow her onto the road.
"Come on puppy! Come on!" she yells.
A bystander steps in as the man tells his dog not to follow the woman.
"I'm just passing by, and you're actually instigating a dog to go to the middle of a highway?" the bystander says. "What kind of problem do you have, lady?
The woman yells back that she was trying to show what could happen if people go around without leashing their dogs in the city.
"You insult someone of Asian descent, and you're trying to instigate a dog to go into the middle of the street because you're on principle or whatever reason. Why don't you go back where you came from? Who are you? Leave people alone." the bystander replies.
The woman makes another comment about no having leashes in the man's country before attempting to lure the dog out once more--this time successfully. The owner runs after his dog, calling its name.
The video ends with the man and woman arguing back and forth in front of a police car. It is unclear whether or not the police got involved.
Newsweek reached out to the New York City Police Department, but did not hear back by publication time.