Woman Finds Dead Cockroach Painted Into the Walls by Landlord
Cockroaches have a notorious reputation for resilience, as they can survive high levels of radiation.
But one cockroach on Twitter has gone viral for not being able to live through a landlord's shoddy paint job.
In a photograph shared to the social media app by a woman called Chelsea, whose account is known as @chellzyeah, we can see that someone has covered one of these pesky insects in white paint, immortalizing it in the wall.
Chelsea captioned the image, in which the insects' antennae and legs are splayed, with the words: "My landlord painted over a f**king roach."
The unsightly image, that can be viewed here, was shared on September 5 and has so far been liked by a whopping 321,700 people and shared more that 43,700 times.
Many people rushed to the comments section to share their opinions on the piece of accidental wall art.
One Twitter user, Faralyn Padilla, known on the app as @FaralynPadilla, wrote: "That's pretty gross. That means there are probably dead roaches under the carpet as well. Note to landlords, you're supposed to fumigate AND clean before you paint."
Another person, Jeff D Stockton, known as @JFTypeSVR, joked: "You should cut out a small rectangle of the wall with the roach in it—suitable for framing, and do the simple repair & paint job.
"Keep the original and sell limited number of prints, then a year letter, less expensive licenced inexpensive mass consumption copies. Coffee mugs!"
Soapbox Jury, @soapboxjury, revealed his own peculiar renting story, writing: "Sort of related: we moved into a flat in Edinburgh and the bed was made.
"Very weird, so we removed it to find a blood-stained mattress covered in cigarette butts. There were pans and more covered in food shoved."
Long Live The New Fleshlie, @popshifter, also explained: "My lifelong phobia (not an exaggeration) of these devil spawn[s] is because the previous owners of my childhood home covered up dead roaches with shelf paper. The house was infested, I was traumatized for life."
Other people also took to photoshop to edit the image to look like the cockroach is dancing. One image by Rat B**tard, @BeanS**t72, shows the insect in a top hat and holding a cane. The caption reads: "hello my baby, hello my darlin, hello my ragtime gal."
Another person, I.Am.Cannabull, @CannaBullAz, swapped one of the insects spindly legs for that of a Kankan girl's and multiplied it so it looks as thought they are dancing in a line with feathered hats.
Chelsea commented on all these images, writing: "Really glad everyone is having so much fun with my mummified roommate."
This is not the only landlord oversight that Newsweek has reported.
Recently, we have trawled Reddit to find some of the worst landlord experiences, and it certainly did not disappoint.
Chelsea later told Newsweek: "Landlords are the scum of the earth and it's an inherently exploitative practice. The roach is pretty funny though."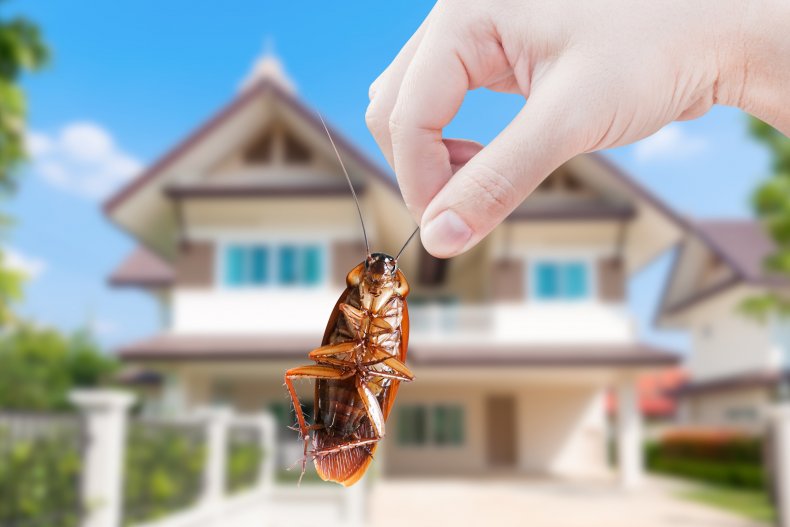 UPDATE 9/09/21 5:27 a.m. ET: This article was updated to include a comment from Chelsea.