On Wednesday, a married woman in India fled her home to rendezvous at a nearby train station to meet the man with whom she'd been having an affair. Afraid they'd be caught and she'd be forced to return home, she and the man hopped on a train and tied the knot.
The woman, Anu Kumari, and the man, Ashu Kumar, started dating several years ago, India.com reports. But her family, for unknown reasons, objected to the union. When her parents learned of the relationship, they banned Kumari from leaving the house. And two months ago, they forced their daughter to marry another man.
Not wanting to live with her new husband, Kumari moved into her father-in-law's home. She continued her affair with Kumar and on Wednesday, she fled the home and met him at the Sultanganj railway station. The couple then married on a train headed towards the Indian city of Bengaluru.
Kumari said in a statement via Zee News that her family had learned of her escape plan and tracked the train. "Terrified of being caught and being sent back to her husband," says the outlet, she begged Kumar to marry her. He obliged, and performed the nuptials by applying vermilion, also called sindoor, to her forehead.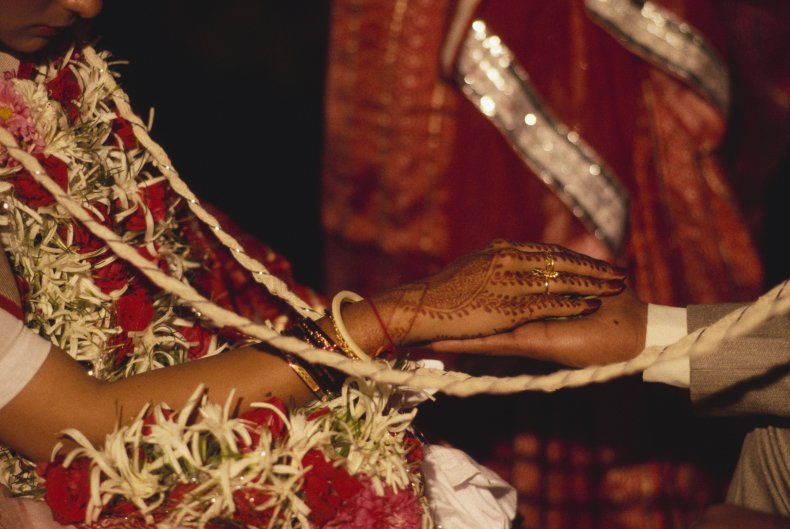 Vermilion powder on a bride's forehead is "her holiest mark as she begins her journey as a bride, for the rest of her life," according to The Times of India. The mark "represents years of ancient folklore and beliefs about a woman's validation as a married woman," and is first put on by her husband during wedding rituals. It is then applied daily by the bride herself to mark "his presence in her life." It is unclear if she was forced to wear this mark after her previous wedding.
It is not known if Kumari was forced to return to her first husband and his family.
Earlier this month, another man in India disguised himself as a bride to see his girlfriend on her wedding day. Though the couple had been seeing each other for a while—the specifics of the timeline are not fully known—his girlfriend was arranged to be married to another man. Sadly, his girlfriend's family saw through his disguise and kicked him out before he could make contact with the bride. He and his friends escaped before the police could arrive.