Woman Raises $15K for Heart Transplant After Hospital Said She Was Too Poor for Procedure, Should Hold Fundraiser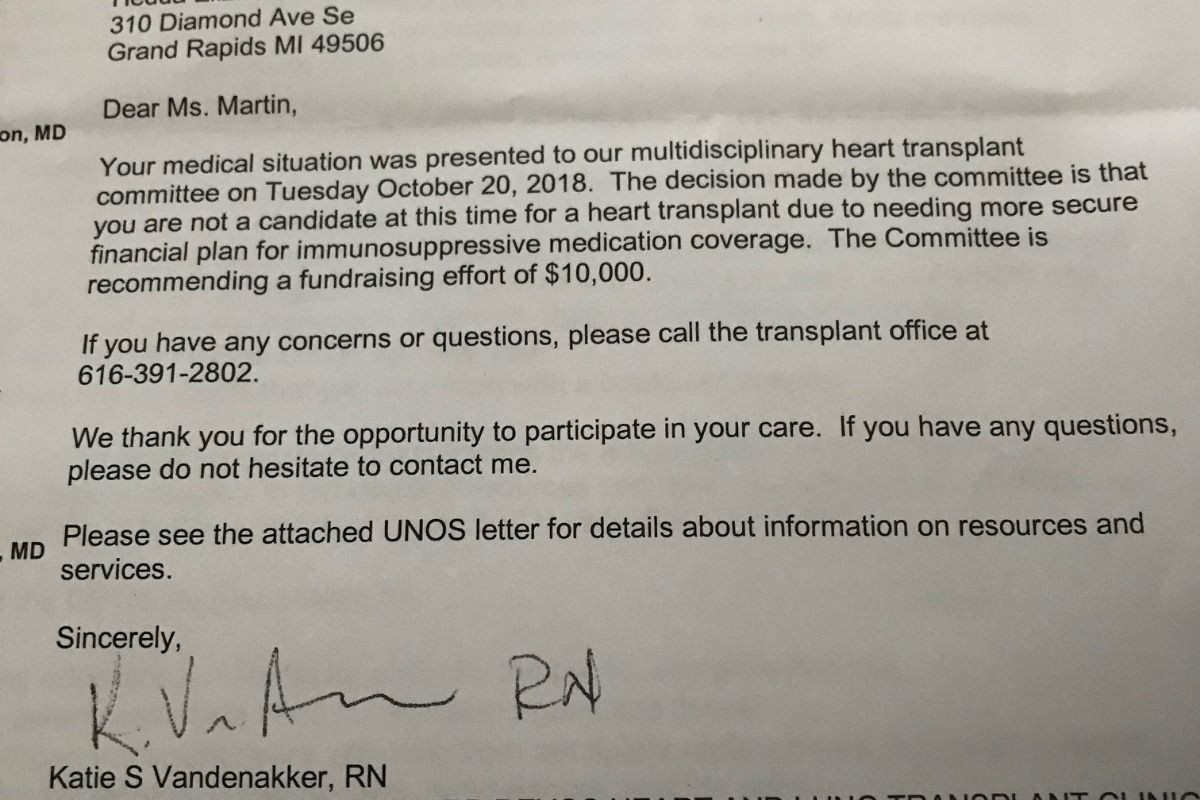 A woman who needed a heart transplant had raised more than $15,000 as of Monday morning after the story of her rejection by the heart and lung transplant team went viral on social media.
Hedda Martin, from Grand Rapids, Michigan, was reportedly sent a letter from Spectrum Health's Heart & Lung Specialized Care Clinics on November 20 that told her she was ineligible for a heart transplant because she needed to secure more financing for the drugs necessary to keep her body from rejecting the new organ, MLive reported. The letter, which Martin posted to her Facebook account, suggested Martin fundraise for the money.
"The committee is recommending a fundraising effort of $10,000," the nurse who signed the letter wrote.
The letter went viral on social media and was shared by incoming U.S. Representative Alexandria Ocasio-Cortez.
"Insurance groups are recommending GoFundMe as official policy - where customers can die if they can't raise the goal in time - but sure, single payer healthcare is unreasonable," Ocasio-Cortez tweeted on Saturday.
The health system posted a statement to its website on Saturday, saying that Spectrum Health "cares deeply" about its patients.
"While it is always upsetting when we cannot provide a transplant, we have an obligation to ensure that transplants are successful and that donor organs will remain viable. We thoughtfully review candidates for heart and lung transplant procedures with care and compassion, and these are often highly complex, difficult decisions," the statement read. "While our primary focus is the medical needs of the patient, the fact is that transplants require lifelong care and immunosuppression drugs, and therefore costs are sometimes a regrettable and unavoidable factor in the decision making process."
Martin's son, Alex Britt, launched a Gofundme account for his mother and has already raised more than $15,000 of the campaign's $20,000 goal.
"The transplant team does not want to "waste" a vital organ if she cannot afford heart rejection drugs. Understandably. However, they are not even willing to put her on the list knowing it would still give her time to raise money over a year or so through family," Britt wrote on the funding campaign's website. "Because she needs the funding right away to qualify being put on the transplant list and not lose valuable time, we are asking for anything you may be able to afford. We need to get mom on the heart transplant list."
Martin told MLive on Sunday that she was "overwhelmed by everyone's kindness." She wrote to the publication through Facebook messenger that she is not upset with Spectrum.
"I will get better and I will fight to my last breath the injustice and greed in our healthcare and pharmaceutical sectors," she wrote to MLive.