Woman Hands Out Hand Sanitizer And Vitamin C Kits To Help The Homeless During Coronavirus Crisis
Newsweek's "Heroes of the Pandemic" series features everyday heroes showing service, sacrifice or kindness in the time of COVID-19.
"Take the hand sanitizer, rub it around, don't touch your face, OK?"
That's what Shirley Raines says again and again to the homeless men and women living in the Skid Row neighborhood of Los Angeles as she hands out coronavirus "kits" through her car window.
With the city on a lockdown during the pandemic, many have been forced to adapt the way they live and instructed to practise social distancing to avoid spreading the virus.
Raines, 52, has adapted the way she runs her non-profit, Beauty 2 The Streetz.
She can't continue doing hair and makeup for the homeless community like she has done for the past three years.
Instead, to help them avoid a coronavirus outbreak that would be devastating, she has started spending Saturdays handing out supplies including 200 bottles of hand sanitizer, donated by Bite Toothpaste Bits, as well as oranges and lemons to provide a Vitamin C boost.
She's also continuing to help feed hundreds of homeless people every week—only she's had to stop cooking the food in bulk herself since she can't buy as much in grocery stores. Instead, she buys 600 burgers from McDonald's every Saturday morning.
Raines, who lives in Long Beach, California, and her team also educate the community about how to prevent spreading the virus and provide water, clothes and other supplies like masks and gloves.
Although Los Angeles Mayor Eric Garcetti said the city would be providing temporary beds to get the homeless community off the streets, Raines said many are still sleeping outdoors, so she and her team provide blankets and tents when they can as well.
"That's pretty much what we're doing," Raines told Newsweek. "Trying to find a way to help that protects them and us at the same time. It doesn't leave them hungry and cold and feeling alone.
"We're letting them know that as long as we're able to, as long as the city doesn't shut down, we will be out there every Saturday to give them more supplies."
She added: "We pass out whatever we can get and educate and just let them know that we're not leaving them during this time. Our help has to look different, we can't do their hair, we can't give them makeup. We can't do the things we used to do but we still provide for them."
Raines said she and her team maintain their distance from the homeless community by handing out items through their car windows or by setting up tables that people can grab the packs from.
But trying to get the community to practise social distancing among themselves is "impossible," she said. "What a lot of people don't understand is the homeless are living on top of each other. They sleep on top of each other," she added.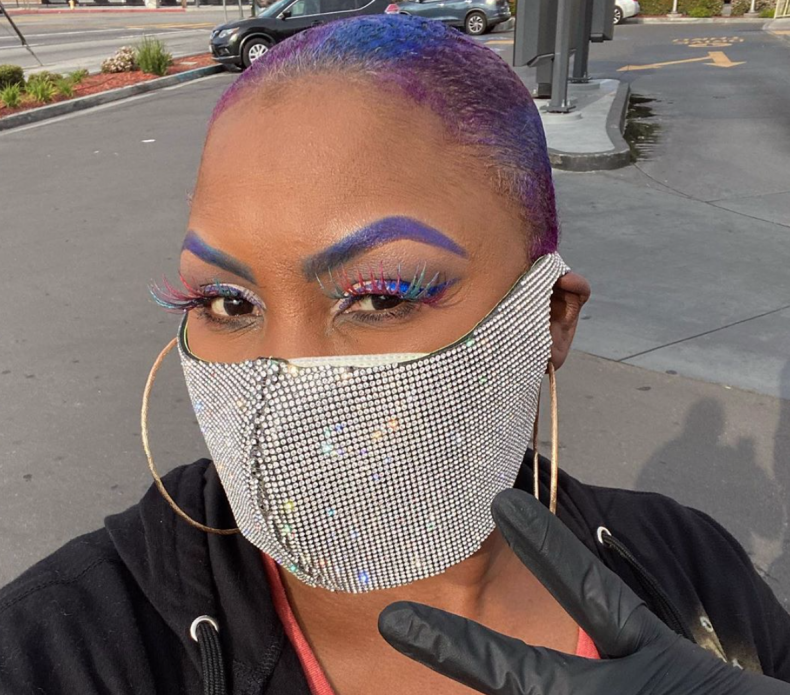 "There is no way for them to stay six to 10 feet away from each other. Our job is to protect them from getting it from outsiders, that's us. For me to tell them to find six to 10 feet from everybody is impossible. So what we try to preach and educate is washing your hands, don't touch your face."
But Raines says it's also hard to tell the homeless to wash their hands when the city has only recently started installing hand washing facilities in the area—and not all of them have running water. "It's kind of hard to educate them on something they should be doing when they don't have the items necessary to do it," she added.
Last week, the first confirmed case of coronavirus on Skid Row was reported after an employee of the Union Rescue Mission tested positive, The Los Angeles Times reported.
Raines said she started helping the homeless after losing her firstborn son in an accident, just days before his third birthday, in the early 1990s.
Even though she's since had five more children, she said: "Nothing takes the place of a child, not even another child. I was very broken for many many years. Even though it's been 30-something years, when you lose a child, it always feels like it was yesterday.
"I had to cancel the birthday party, cancel the birthday cake, cancel all these things. People are complaining right now, during COVID-19, 'Oh I had to cancel my birthday party. I had to cancel this and that.' I wish I had to cancel a birthday party that I could later have, but that was not my story. My story was this one's getting canceled and it'll be canceled forever."
Raines said she started feeding the homeless to "find a purpose for my pain."
"I was just looking for a way to be useful. Someone suggested I go feed the homeless, I went and fed the homeless," she said. "I found I was very relatable to them, there's a lot of people out there who have a lot of pain like myself. A lot of people are homeless because they lost a loved one, they lost a husband, they lost a job. A lot of people are homeless because of loss and don't know how to get through the loss."
Later, she left the organization she was volunteering with and started her own. She worked as a medical biller for 26 years but after being laid off last year, she now runs her non-profit full-time.
Raines said that although the pandemic has made life harder for many Americans, the homeless community "have been suffering for a very long time."
"Some of the loss that we are experiencing, not being able to get certain things... the homeless have always been experiencing that," she said.
"We're just lucky that this is a temporary transition in some of our lives where this has been a permanent transition in a lot of the homeless live. I just feel like no matter what things look like right now, we just all should be very grateful, you know?"
Know a hero you want to nominate to be featured in our series? Drop us a line at heroes@newsweek.com.