Woman Hilariously Adds Cat to Famous Artworks: 'Better Than the Original'
A woman who edits her cat into famous artworks has amazed the internet with her creations.
Hannah, who is 28 and preferred not to give her surname, lives in northern Nevada and has been adding her cat Gravy to world-renowned pictures. Her work recently gained viral attention when she shared a picture of her cat in the lap of the Mona Lisa.
"Gravy is about a year old," Hannah told Newsweek. "I adopted him in June of 2021 from a crazy lady outside of a local Savemart who thrust him into my arms, and well, I just couldn't say no to taking him in."
Hannah was inspired to add Gravy to famous artworks by the work of Svetlana Petrova who created Fat Cat Art featuring her beloved ginger cat Zarathustra.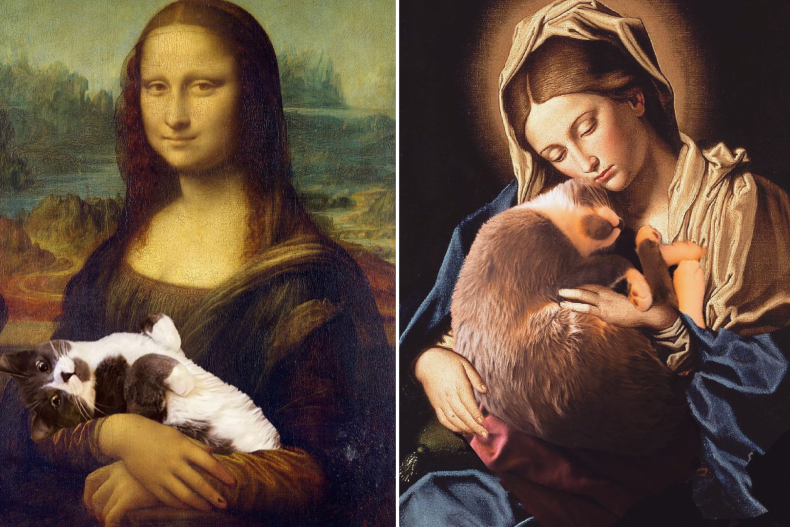 In 2015, Petrova even published a book featuring the 22 pound feline in the world's greatest artworks from Rembrandt masterpieces to the Bayeaux Tapestry.
Inspired by the creations, Hannah set to work adding Gravy to famous artworks.
"I use my free Photoshop app on my phone as my laptop doesn't work properly anymore," she said. "There really isn't a feathering tool, that's why he's a bit of a different color and texture than the paintings I put him in."
Just days ago, Hannah shared her "The Mona Lisa and Gravy" masterpiece, which has received more than 44,000 upvotes on Reddit.
"Everything is better with gravy," said one commenter on Reddit, while another wrote, "This may be the best 'photoshopped my cat in' picture ever."
"Make this an Etsy service," read one comment. "I would pay to have two made with my kids' cats."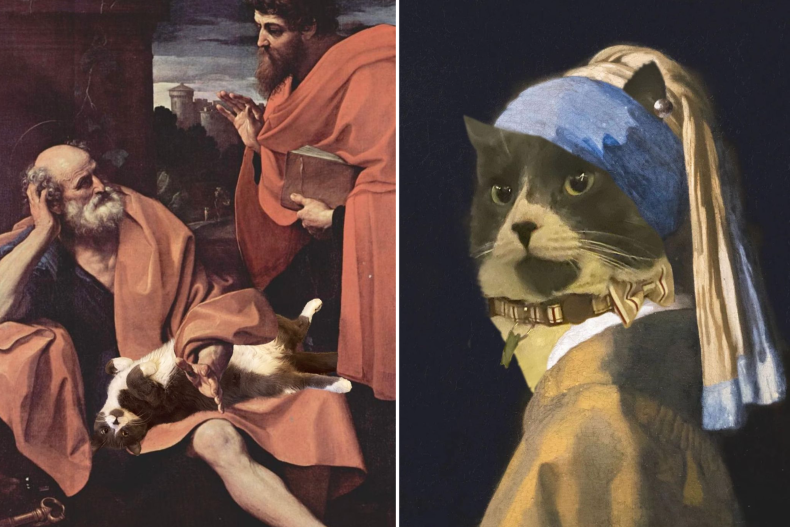 Other artworks that Hannah has added her much-loved cat to include Saint Peter and Saint Paul by El Greco and Girl with a Pearl Earring by 17th-century Dutch artist Johannes Vermeer.
She also shares her latest creations on Instagram under the handle @splashofgravy.
"I am so thrilled to have made so many people smile with my silly little photoshops. I even made a Redbubble account where I've added these as stickers and prints and stuff," said Hannah. "As of right now I have almost 2 million views so far in my analytics tracker on Reddit. I am honestly blown away."
"Much better than the original," said another Redditor praising the Mona Lisa featuring Gravy. "A dour visage whose otherworldly fame and celebrity has always confounded me. Gravy makes everything better."