Woman Horrified to Find Mold In Breast Implants After Debilitating Illness
A woman revealed the struggle she had while she had breast implants until she removed them and discovered there was mold in them.
TikTok user @melissalima713 shared her story in a video that has been viewed more than five million times.
She explained that after experiencing a host of symptoms and ailments, her friend encouraged her to look into breast implant illness.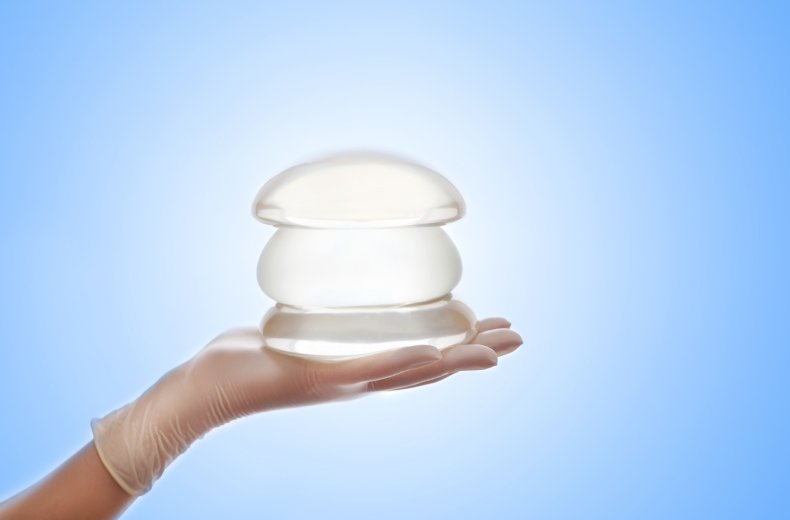 What is Breast Implant Illness?
According to the Cleveland Clinic, breast implant illness refers to the symptoms someone may experience after getting breast implants.
"People have reported more than 50 symptoms that impact their musculoskeletal system, ability to think and focus and overall body," the organization said.
Some of the symptoms that the Cleveland Clinic outlined include joint and muscle pain, anxiety and depression and hair loss.
To treat breast implant illness, surgeons typically remove the implants and may remove the scar tissue around the implant.
Another woman posted a series of videos discussing her decision to remove her breast implants after experiencing breast implant illness.
"Several studies show improvement in symptoms almost immediately after implant removal," the Cleveland Clinic reported, though the organization also noted one study showed improvement within three months of surgery.
'Yes, That's Mold'
In her video, @melissalima713 said she first got her implants in 2002 because she felt "insecure" with her body.
Starting in 2010, however, she said she started experiencing severe joint pain, depression and inflammation. She searched for an answer and went to a number of doctors but was unable to pinpoint what was happening.
"As a single mom, I couldn't get out of bed to cook for my boys and would often wonder if they would be better without me," read the text over @melissalima713's video, which featured a montage of photos and videos of the different side effects she faced.
Her friend suggested that she look into breast implant illness, and in October 2020, @melissalima713 decided to remove her breast implants.
A clip featuring a removed implant with brown dots swirling in the liquid was included in the video.
"Yes that's mold," read the text over the video.
And she's not alone. Another woman's video went viral after she shared that her own implants contained mold.
It was only a matter of hours before @melissalima713 said she saw a change.
"I finally felt like me again," she said. "Now I'm living my best life. And best of all, my sons have their mom back."
'Now I Will Never Get Mine Done'
Viewers took to the comments section to thank @melissalima713 for sharing her story.
"I'm so glad you shared your story when you did," a viewer wrote. "Made me think twice and now I will never get mine done! So glad [you're] doing so much better!"
"You know...I was honestly considering it, but this video just made it a big hell no for me...thank you," commented another.
Others revealed that they or a loved one went through a similar situation.
"When I tell you I GASPED," a viewer said. "I explanted a few years ago & the heal is REAL."
"This happened to my friend she lived in pain for so many years," one viewer wrote. "Once she got them out she's healthy again."
Newsweek reached out to @melissalima713 for further comment.
And if that wasn't enough for you, one viral video showed what a 46-year-old first-generation breast implant looked like after it was finally removed.