Woman Hospitalized After Dog Defecated in Her Mouth: 'It Was Disgusting'
A British woman reportedly spent three days in the hospital after her daughter's chihuahua defecated in her mouth.
Amanda Gommo told South West News Service (SWNS) via Indy100 that she and the dog Belle were taking their daily nap when Belle suddenly experienced "violent diarrhea." For whatever reason, Belle walked over to Gommo—who had fallen asleep with her mouth open—and defecated on her.
Gommo promptly woke up and spent the next several hours "hurling violently." A few days later, she was hospitalized with a "gastrointestinal infection"—one of several illnesses humans can contract from their dogs.
'It Was Disgusting'
"It was disgusting," Gommo told SWNS of the incident. "I was hurling violently for hours after—I just couldn't get the taste out of my mouth."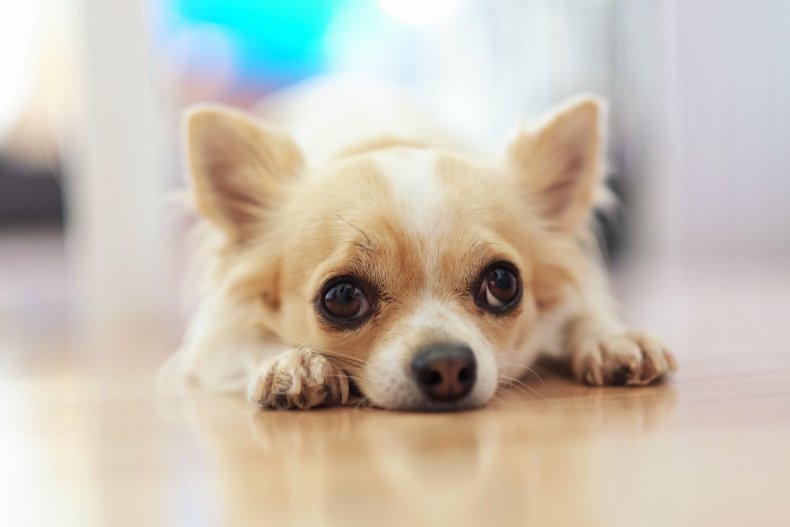 Gommo's daughter rushed Belle to the vet and learned that the dog had contracted a stomach bug. The vet prescribed Belle some antibiotics, and everything appeared to be okay. That is until Gommo started feeling ill.
At the first sign of symptoms, Gommo called an ambulance, but paramedics gave her some painkillers and told her to drink fluids to "flush out the infection," SWNS reported. Two days later, however, "the cramps had spread all over her body," so she again called an ambulance. This time, paramedics rushed her to a nearby hospital, where she remained for three days.
"I was so dehydrated from being sick and having diarrhea that my kidneys had shriveled to half their size," she told SWNS. "My discharge note said that I'd suffered a gastrointestinal infection caused by a dog defecating in my mouth—something doctors had never witnessed before."
Getting Sick From Dogs
According to Healthline, humans can contract several diseases from dogs in addition to gastroenteritis. Those illnesses include ringworm, salmonella and brucellosis, among others.
While contracting infections from dogs "isn't likely," germs and illnesses can spread in the following ways:
Through contaminated food and treats, water bowls or surfaces;
Through contact with dog feces;
Receiving a "kiss" from a dog that is carrying an infection;
Sleeping in the same bed as a dog;
Being cut or scratched by a dog.
It's also worth noting that some people are at a higher risk than others of contracting illnesses from dogs, Healthline said. Those people are children, pregnant people, people 65 and older, and those who are immunocompromised.
A Happy Ending
Thankfully, after a rough few days, Gommo and Belle are "on the mend."
"I've been drinking two Lucozades a day, plenty of tea and loads of water since it happened, and I'm happy to say both me and Belle are on the mend," Gommo told SWNS. "I've forgiven Belle for her little accident, and I still love her with all my heart, but I will definitely be more mindful of what position we sleep in in the future."
Newsweek reached out to the American Veterinary Medical Association (AVMA) for comment.
More Pet Stories
On Monday, it was reported that a 15-year-old dog had made a "miraculous" recovery after suffering a spinal stroke.
Last week, a video of a blind and deaf dog's delighted reaction to realizing his owner was home went viral on social media.
And, also last week, an owner took to Reddit to share that her dog discovered her dad's terminal brain cancer before doctors.