'The Woman in the House Across the Street From the Girl in the Window' Trailer and Cast
Comedy, crime-thriller, and scandi-noir fans will not want to miss The Woman in the House Across the Street from the Girl in the Window (TWITHATSFTGITW) on Netflix when it drops on Friday, January 28.
The hilarious yet intense new series starring and executive-produced by The Good Place star Kristen Bell, is a parody on some of the biggest female-led thrillers in recent years including such as The Girl on the Train and The Woman in the Window and will sure to have you laughing out loud.
TWITHATSFTGITW follows the story of Anna, a heartbroken single woman who enjoys a glass of wine (possibly too much) at the end of a long day. After a heavy night of red wine, Anna wakes with the memory of witnessing a gruesome murder but did it actually happen, or is was it something she imagined in her drunken haze?
With less than a month to go for the highly anticipated new series to land on Netflix, the trailer has finally dropped and details around the cast have been made available. Luckily, Newsweek has everything you need to know.
What Happens in 'The Woman in the House' Trailer?
The trailer for TWITHATSFTGITW sees Anna introducing herself to what appears to be a therapy group.
She says: "Hi, I'm Anna. The truth is that I drink—a lot. And sometimes I mix it with pills. And I'm here because I woke up this morning convinced I witnessed a murder."
The trailer then flashes through a montage of large glasses of wine being poured and Anna overhearing people talking about her drinking problem and even calling her "bats*** crazy."
Anna then reveals she is partial to mixing some pills with her vino which may be messing with her memory, particularly when she tries to recall if she actually saw a murder take place or not.
As the trailer comes to an end, it looks like Anna has taken matters into her own hands and embarks on a quest to solve the murder she may have witnessed.
Who Is in the Cast of 'The Woman In The House'?
Anna — Kristen Bell
Kristen Bell stars in the lead role of Anna in TWITHATSFTGITW and also serves as an executive producer.
Speaking to Entertainment Weekly, Bell shared that she found the role challenging at times.
She said: "It was, 'Do I make a joke about this? Or do I play it completely straight, and risk missing the joke?' Rachel [Ramras, showrunner] kept me on track and she basically said, 'Try to do everything as sincere as possible, but make sure you're laughing on the inside.' The end result captures the best bad acting I've ever wanted to accomplish in my career. It was quite fun."
Bell is best known for her comedic roles in NBC's The Good Place, The CW's Veronica Mars and as Sarah Marshall in the 2008 film Forgetting Sarah Marshall.
She is also well recognized for voicing Princess Anna in the Frozen franchise as well as Gossip Girl in the series of the same name.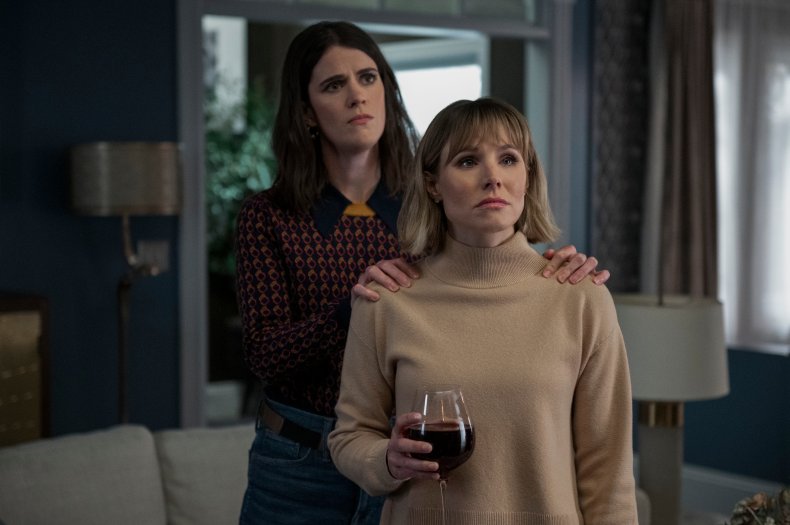 Sloane — Mary Holland
Mary Holland plays the role of Sloane, a local art gallery owner, and Anna's best friend.
Holland is an American actress and comedian best known for her role as Shawnee Tanz in Veep and Shelley Tinkle in Blunt Talk.
Most recently she starred as Tanya in Physical and Lanie in Mapleworth Murders.
Neil — Tom Riley
Tom Riley stars as Neil, Anna's handsome new neighbor who instantly catches her attention.
Neil lives directly opposite Anna with his adorable younger daughter (played by Samsara Yett) and she has the perfect view into his home from her window.
Riley is an English actor, producer, and director, best known for portraying Leonardo da Vinci in Da Vinci's Demons, Will Wagstaffe in Dark Heart, and Augie in The Nevers.
His other well-known credits include Ill Behaviour, The Collection, Monroe and Ghost Light.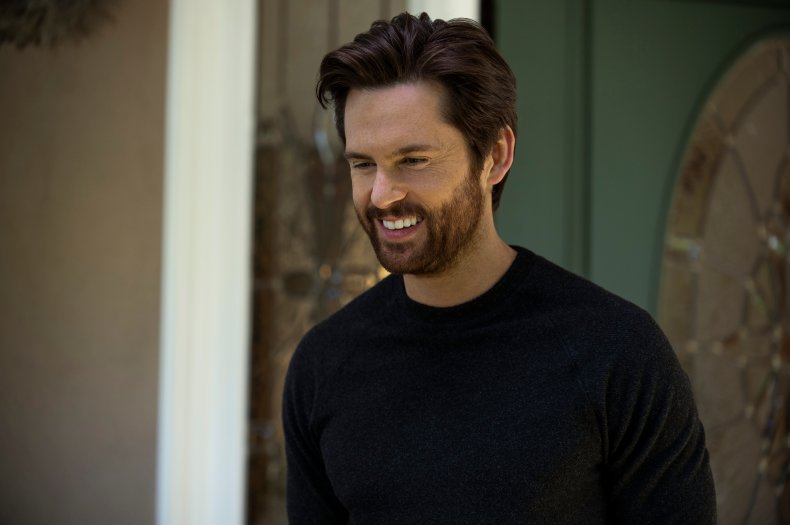 Lisa — Shelley Hennig
Shelley Hennig takes on the role of Lisa, who seems sweet on the surface, but Anna thinks there is much more to her than meets the eye.
Hennig is an actress and model who rose to fame for portraying Malia Tate in Teen Wolf.
She is also well known for her role as Stephanie Johnson in Days of Our Lives and Ginny in Mythic Quest.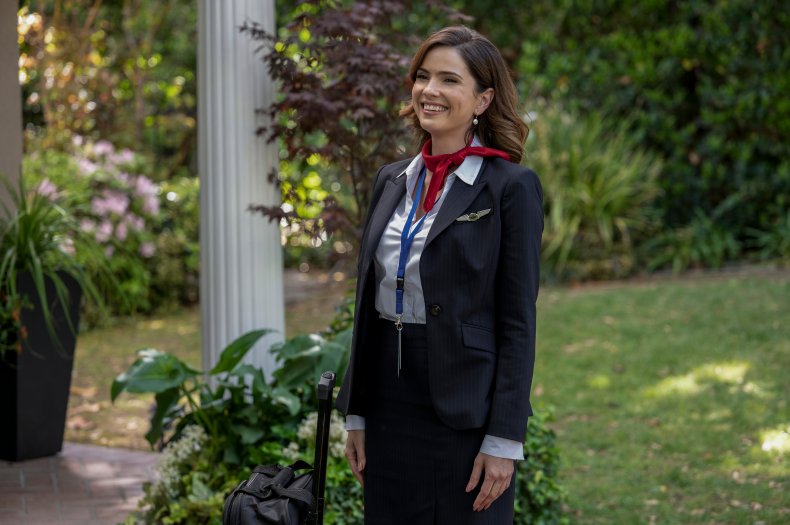 Buell — Cameron Britton
Cameron Britton stars as Buell, Anna's handyman who always happens to just be around all of the time.
Britton is best known for portraying serial killer Ed Kemper in Netflix's Mindhunter, a performance for which he received a Primetime Emmy Award nomination for Outstanding Guest Actor in a Drama Series.
He is also well known for his role as Hazel in The Umbrella Academy and for portraying 1996 Atlanta Olympic Games hero-turned-suspect Richard Jewell in Manhunt: Deadly Games.
Douglas — Michael Ealy
Michael Ealy takes on the role of Douglas, Anna's ex-husband who is described as "bookish and pragmatic."
Audiences may recognize Ealy from his role as Detective Miles Hoffman in Stumptown, Theo Noble in The Following, Derrick Bond in The Good Wife, and Jake in Westworld.
Also starring in TWITHATSFTGITW are Christina Anthony as Detective Lane, Samsara Yett as Emma, and Benjamin Levy Aguilar as Rex.
The Woman in the House Across the Street from the Girl in the Window will be streaming on Netflix on Friday, January 28.