Woman Inspired by 'Steel Magnolias' Donates a Kidney to Her Pastor, Ends Up Saving 4 People
From the time she was in high school Ali Shappell of Gardner, Kansas knew she wanted to be a kidney donor. When the opportunity to give presented itself in real life, Shappell's donation created what is known as a "transplant chain."
Shappell's childhood pastor was in need of a kidney and Shappell was more than willing to donate one of hers.
"Even though you can live on dialysis," Shappell told WTKR, "that's not a life."
But Shappell and her pastor were not compatible.
"I was okay to be a donor," Shappell said, "but I didn't match him was the problem. So then we had to get involved with the swap program."
Shappell donated one of her kidneys anyway, knowing that it would go to a stranger.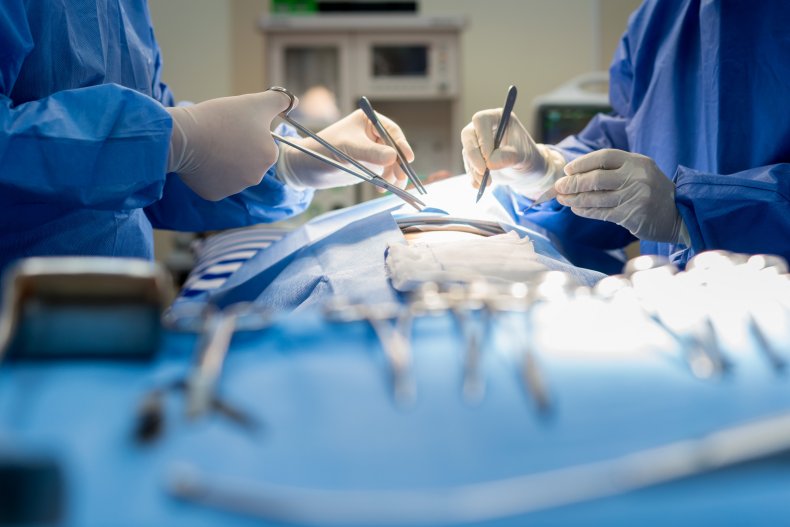 "An altruistic donor coming in doesn't actually have a connection to somebody," said Kansas University Hospital transplant surgeon Dr. Sean Kumer. "There are opportunities that you look for to create a chain."
This particular kidney chain included four donors, including Shappell, and four recipients, including her pastor.
"They kind of go all the way down the chain and the last one will donate to the first one," Kumer said.
"If people could just see how much that you really are helping somebody," Shappell said, "it changes your life."
Newsweek reached out to the Kidney Transplant Program at the University of Kansas Health System but did not receive a response in time for publication.
Shappell's desire to become a kidney donor started when she portrayed the diabetic character of Shelby in a high school production of the stage play Steel Magnolias. In the play, Shelby passes away as a result of the disease.
"So many people are born with diabetes," Shappell said, "and they didn't ask for that, and it just really affected me. "One of the scenes, she has a diabetic attack, which I didn't even know was a thing. I had to look up videos about it, and it's so scary."
Each month, over 3,000 new patients are placed on a waiting list for a new kidney. While some patients suffering from kidney failure can live fulfilling lives while undergoing periodic sessions of dialysis, kidney transplants allow patients to live longer than those who choose to stay on dialysis, according to the National Kidney Foundation.
However, patients who receive new kidneys may find themselves at a higher risk for some types of cancer and infections. Anti-rejection medicine which ensures the body does not cause the new organ to stop functioning must also be taken.