Woman Jailed for Vandalizing Young Man's Grave: 'Looks Like Diabetes Won Again'
A woman in Bristol has been jailed for what's being called a "wicked" and "perplexing" crime committed last fall.
As Bristol Live initially reported, the grave of 22-year-old Liam Scarman became the target of harassment and vandalism in November 2020. White paint was poured over the headstone, alongside a note that read, "Ha Ha Ha Liam. Looks like diabetes won again!" and other offensive messages. Scarman passed away after suffering a diabetic episode in 2017.
Now, the culprit, 25-year-old Bristol resident Simona Julius, has reportedly been jailed for the crime. According to Bristol Live, the sentencing comes after Julius admitted to committing the vandalism and writing the hostile messages.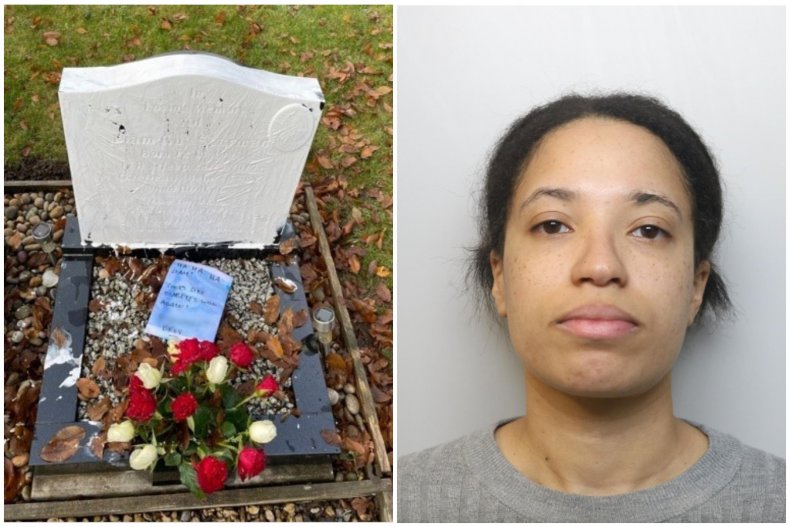 For Liam's family, the incident added another layer of grief to having lost their son.
"Losing a child is the worst possible grief you could imagine. It has consumed my life," said his mother, Sue Witt, in a court statement. "Having found out that somebody had damaged Liam's grave just compounded all those emotions and undid the progress I had made in dealing with his death."
She added that their family struggled to understand what motivated the crime. "I think people are wondering what kind of person Liam was, how horrible a person he must have been for somebody to damage his grave the way they did when in reality everybody who knew him loved him," she said.
Liam's father, Trevor Scarman, expressed similar feelings. "When I found out Liam's headstone had been vandalized, I had a numb feeling that went through my body," he said in his statement. "My initial reaction was why? Why had someone damaged it?"
He added that while "the physical damage has been repaired," the "emotional damage will take far longer" to overcome. "It's like someone is sticking a knife in and twisting it. Our family [is] completely distraught. To commit an act of criminal damage like this along with vile notes addressed to me has left me feeling devastated."
While she did admit to the crime, Julius' motive remains a mystery. "I'm glad that we were able to identify the culprit and bring some relief to the family," said Kyle Maywood, an investigator on the case, "but Julius has never answered the question of what motivated her to act as she did and cause such distress."
As of Wednesday, Julius faces eight weeks of jail time and was forced to pay £500 ($700 USD) to the family. She has also been issued a three-year restraining order.