Working Too Hard Literally Killed This Japanese Woman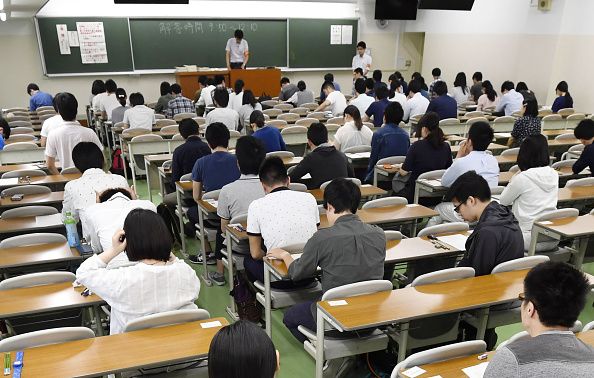 Miwa Sado, a political journalist at Japan's national broadcasting organization, NHK, died from overwork after logging 159 hours and taking only two days off in the month leading up to her passing, The Guardian reported.
Sado, 31, died from heart failure in July 2013. However, her case was not made public until this week, when labor inspectors in Tokyo ruled that she died from karoshi (death from overwork). Her death again sheds light on Japan's draconian working hours expected of many employees, and it will add more pressure on authorities to address deaths caused by such practices.
The journalist, who joined the broadcaster in 2005, worked on the Tokyo Metropolitan Assembly election and the House of Councilors election from June to July 2013, according to The Japan Times. She passed away July 24, three days after the Upper House election, the newspaper added.
"Even today, four years after, we cannot accept our daughter's death as a reality," a statement by NHK said, citing Sado's parents. "We hope that the sorrow of the bereaved family will never be wasted."
This is not the first time Japanese employees died from overtime work. According to a BBC report, the tradition of karoshi has been documented since the '60s and '70s. Recently, nearly a quarter of Japanese companies report employees working more than 80 hours overtime per month, BBC reported, while 12 percent of employees work more than 100 hours of overtime a month.
However, the death of Matsuri Takahashi, a 24-year-old staff member at advertising company Dentsu, triggered a national conversation about labor standards. She barely slept after working more than 100 hours overtime. For the most part, young Japanese employees are expected to push themselves to the limit.
Takahashi's death led Prime Minister Shinzo Abe to address a workplace culture that forces employees to work long hours as a token of dedication, despite the fact that long working hours yield little productivity, The Guardian reported.
Earlier this year, the government proposed that the overtime work should be limited to 60 hours a month, but firms have the option to increase the number of 100 hours during "busy periods." Critics indicate, however, that Japan cares more about business profitability and economic interests than the workers's well-being.
"The Japanese people count on the government but they're being betrayed," Koji Morioka, a scholar who has studied the karoshi trend for the past 30 years, told BBC.