Woman Jumps From Moving 18-Wheeler Truck to Evade Capture From Sex Traffickers
Officers at Cisco Police Department, Texas, are calling for information regarding an incident where a female injured herself after jumping from a green 18-wheeler truck on the IH20 to avoid being sex trafficked by three individuals.
Officials put the plea out for information via a statewide broadcaster on Thursday night after the incident at 9 p.m. on August 26, and followed up with a tweet accounting the incident.
"At approximately 9:00pm last night, August 26, 2020, Cisco Police responded to a call of a female who had been seriously injured near the Flying J/Denny's on IH20 in Cisco," read the post.
Cisco Fire Department, Cisco EMS and DPS Troopers arrived at the scene. The woman was transported to a medical facility so she could be treated for her injuries. Crisis workers are also assisting the victim.
"The female injured herself after jumping from an 18 wheeler and later stated that she had been kidnapped in El Paso, Texas. It is believed that the perpetrators intentions were to use the female in sex trafficking operations," continued the police post.
The police described the truck as distinctive—green, with a white stripe and pulling a white box trailer. "The truck is occupied by two Cuban males and a Caucasian male," said the police.
Another female is believed to have been inside the truck at the time of the incident. Police said she may be "in grave danger," and are asking for the public to share information with them if they have seen the vehicle.
If you ave any information please contact local law enforcement at 254-629-1728.
The United Nations has said that the global pandemic has put a great strain on essential services for victims of sex trafficking.
"COVID-19 impacts the capacity of state authorities and non-governmental organizations," said the UN in a statement. The UN believes "criminals are adjusting their business models to the 'new normal' created by the pandemic, especially through the abuse of modern communications technologies."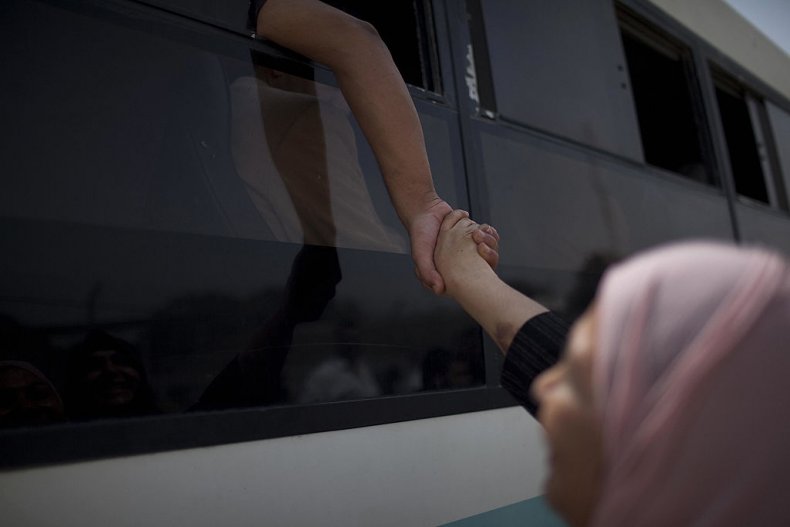 The organization has also said that the pandemic has put further pressure on those most vulnerable to sex trafficking, "it has exacerbated and brought to the forefront the systemic and deeply entrenched economic and societal inequalities that are among the root causes of human trafficking". There are concerns than those who have managed to leave their captors are being forced to return to their exploiters, due to the fact they have lost their lodgings or work as a result of the pandemic.
The UN fears the new world we find ourselves in, while dealing with COVID-19, makes the task of identifying victims of human trafficking even more difficult. Plus, of course victims are "more exposed to contracting the virus, less equipped to prevent it, and have less access to healthcare to ensure their recovery".
Newsweek has contacted Cisco Police Department for further updates and comment on the aforementioned incident.