A woman has been backed after forcing her sister-in-law to end her vacation and fly home early.
In a Reddit post, a 29-year-old woman explained how she invited her half-brother James and his wife Lindsay to stay.
She explained the story on Reddit's popular r/AmITheA****** subreddit under an account that has since been deleted.
Despite always getting on fairly well with Lindsay, she explained that there was some tension.
"She's always had a weird attitude to me being a stay-at-home-mom. She always asks me if I'm going to ask my husband before making non-essential purchases, or asks me if I feel bad relaxing while he's working, or suggests I do things for him as a 'thank you' to him since I'm apparently not doing anything else," wrote the woman.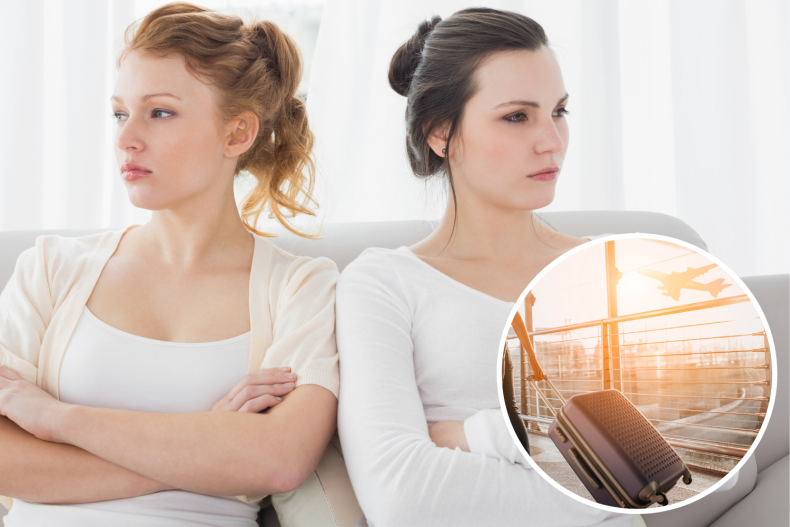 A few days earlier, things had come to a head when the adults were drinking wine in the evening and Lindsay made some inappropriate comments.
"Lindsay was admiring the view and made a comment about how much our apartment cost—James must have told her—and asked if my name was on the deed," explained the 29-year-old. "She then said, 'half of (X amount) penthouse just for lying on your back? Sex work is way more lucrative than I thought'. Both my husband and James laid into her for the comment, I was obviously furious and told Lindsay first thing in the morning she had to get out, she wasn't staying here after speaking to me like that, especially when she wasn't even apologetic."
While she explained that she felt bad about ruining the trip for her brother James and the kids, she said both she and her husband were too angry for Lindsay to stay.
The next morning, she asked if she could stay because James wasn't willing to end his trip early and she could not afford a hotel.
"She blamed her comment on the wine but her explanation seemed so insincere and was clearly based on having no choice," said the poster who stuck to her guns.
Since the ordeal, Lindsay has been furious that she was forced to leave early without her family, and other members of the family also told the woman she overreacted. But she took to Reddit to ask, "Am I the a******?"
Relationship therapist Rhian Kivits told Newsweek: "There's no reason to have softer boundaries with your family members than you would with any other person. In this case, the comments made were hurtful and revealed that there was a feeling of resentment or jealousy being communicated.
"It seems reasonable to not want to be someone's host if this behavior persists. Unfortunately, the woman who was asked to leave was responsible for her actions, and it therefore would have been up to her to accept accountability, apologize and correct her behavior moving forward," she added.
In more than 2,400 comments, people online shared their reactions.
User RemoteBroccoli said: "She disrespected you, your husband, and your home. So you threw her out. Good riddance to bad rubbish."
While SugarLumpy6653 agreed and wrote: "Lindsay has been jealous of your life for quite some time already. She was just wanting to be snarky at some time."
"Seems like her own husband is sick of her s***," said Majestic-Leopard-563. "You had every right to kick her out."
If you have a family dilemma, let us know via life@newsweek.com. We can ask experts for advice, and your story could be featured on Newsweek.