Woman Killed, Five Others Injured in Shooting at Amir Locke Protest in Portland
A woman was killed and five others were injured in a shooting near a park in Portland, Oregon, police said.
Officers from the North Precinct responded to a report of shots fired near Northeast 55th Avenue and Hassalo Street in the city's Rose City Park neighborhood at about 8 p.m. on Saturday, the Portland Police Bureau said in a news release. The area is near the southwest corner of Normandale Park.
Arriving officers found one woman dead and five others who had been shot—two men and three other women— and were taken to area hospitals, police said. Their conditions were not immediately known.
Police did not name anyone involved in the shooting, or provide details about the circumstances that led up to the incident.
The shooting occurred at the same time a "Justice for Amir Locke" protest was taking place in Normandale Park, according to flyers that were circulating on social media.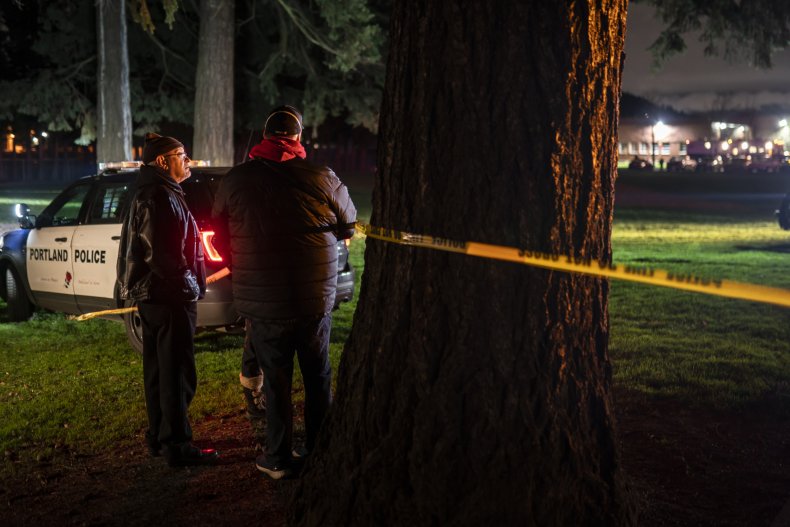 Locke, a 22-year-old Black man, was fatally shot by Minneapolis police during an early morning raid on an apartment on February 2.
Several demonstrators told Oregon Public Broadcasting (OPB) that they saw a person come out of a nearby home and confront a group of about 50 protesters. That person then reportedly opened fire at the crowd.
Portland police closed a number of streets in the vicinity of the shooting as detectives continue to investigate, including Northeast 57th Avenue at Northeast Hassalo Street and to the south.
At time of writing, Northeast Hassalo Street was closed from Northeast 57th Avenue to Northeast 55th Avenue and Northeast 55th Avenue was closed from Northeast Hassalo Street to Northeast Halsey Street.
The Oregon State Medical Examiner is expected to identify the woman who was killed and determine the cause and manner of death.
Also on Saturday evening, a suspect was killed in an officer-involved shooting after officers had been dispatched to the 900 block of Southwest Broadway Drive on a disturbance call.
Police said the officers were told by dispatchers that shots had been fired while en route.
"While the incident was being investigated, an officer involved shooting occurred," police said in a news release. "The subject of the officer involved shooting died at the scene, and no officers were hurt."
Portland Police Chief Chuck Lovell spoke with Mayor Ted Wheeler about both the officer-involved shooting and the shooting near Normandale Park, the release added.
The Portland Police Bureau has been contacted for additional comment.
Anyone with information about the shooting near Normandale Park is urged to contact Detective Scott Broughton at Scott.Broughton@portlandoregon.gov or (503) 823-3774 or Detective Rico Beniga at Rico.Beniga@portlandoregon.gov or 503-823-0457. The case number is 22-47502.