Woman Leaves Job With Note Saying 'I Quit,' Claiming She'd Be Treated Better at McDonald's
A disgruntled hotel worker spectacularly quit her job by leaving a scathing letter on her employer's front desk, saying she would be treated better at McDonald's.
Minimum wage, long hours and unappreciative bosses are just a handful of conditions thousands of workers have to deal with on a daily basis, but it appears as if one hotel worker finally had enough.
The woman, called Milly, seemingly walked out mid-shift, leaving the roughly 500-word-long letter, filled with capital letters and underlined words and ending in the words "I quit" in large, bold font.
A guest discovered the note when seeking help at the front desk after being locked out of their room, thought to be in Iowa.
The guest snapped the note and shared it to Reddit on Saturday, where it's been upvoted more than 184,000 times. User Vinboslice420 captioned it: "Got locked out of my hotel room, went to find the front desk lady and this was on the counter."
The contents, directed at someone called Brian, lists various grievances as Milly raged against her bosses for overlooking her for promotions and not appreciating her enough.
"Since starting here, I have stepped up and had your back through many things. I have stepped into positions simply to ensure our guests have a great stay. I have gone above and beyond to accommodate not only our guests, but for you, employees, and the ever-changing schedule. Not only that, I have done it all with a smile on my face," it began.
She goes on to rage against someone else being hired to fill a vacant management position, instead of her, as well as Brian's reaction when she brought it up.
Milly continues: "I have worked my tail off working doubles, coming in on my days off to do social, cleaning rooms, folding laundry, preparing breakfast, all while watching the Front Desk as well... Just for you to offer no explanation as to why a new manager was hired and I wasn't even considered?
"I have gone the extra mile for this hotel and its guests. I have PERSONALLY received many amazing and 5 star reviews on Google. I have cross trained and LEARNED many different positions to keep this hotel afloat. I have put everything into this, and this is what I get in return?"
She says she even cancelled flights to come in for a shift, saying she was "hurt" at how she'd been overlooked and underappreciated, adding: "I would be treated better at McDonald's."
Milly signs off with: "In conclusion, I QUIT."
While it can't be confirmed the resignation letter is real, numerous people sympathized with the similar position many workers find themselves in.
Zombear33 noted: "People don't quit jobs, they quit managers."
"As a former hotel front desk employee, I salute Milly. It is a hard thankless job, harder than all my jobs as a server," another Reddit-user, Hey-man-Shabozi, wrote.
Quasipooch wrote: "Sadly, most of the hospitality business is like this."
Newsweek reached out to Vinboslice420 for comment.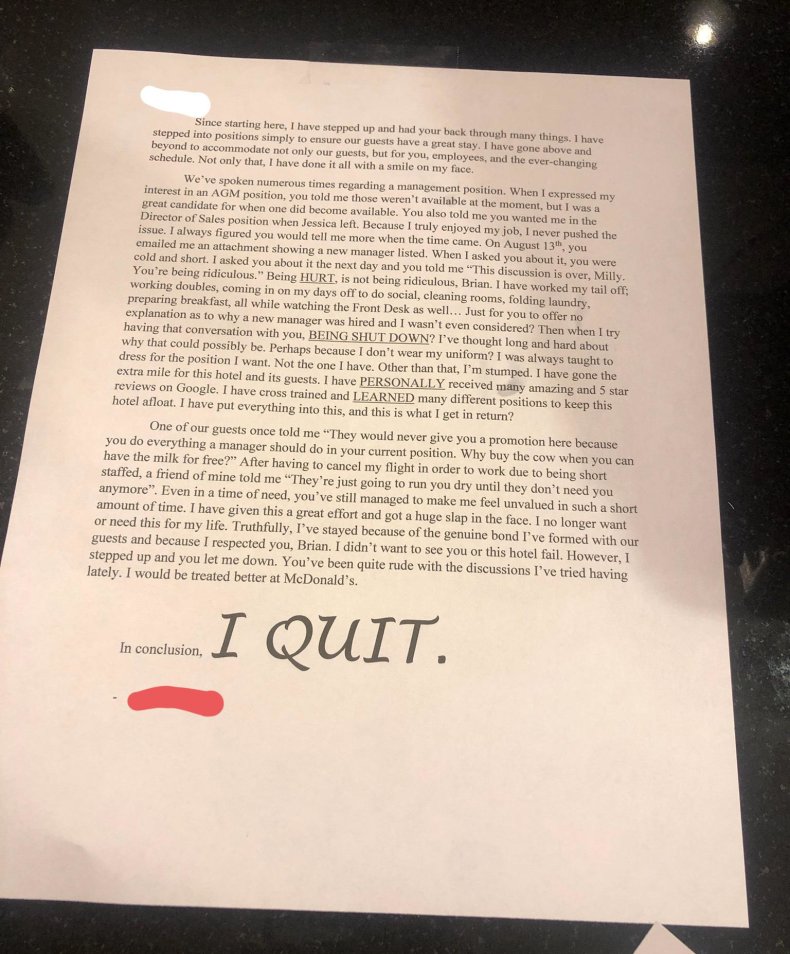 Update 8/17/21 at 3:03 a.m. ET: This article was updated with a photo from Vinboslice420.