Woman Left Paralyzed After Robber Body Slams Her to the Ground, Family Says
A Texas woman has been left paralyzed after a robber body slammed her to the ground, according to her family.
Nhung Truong, 44, was attacked by a robber while she was walking in front of a shopping center at the 9800 block of Bellaire, Houston, at about 11:30 a.m. on Monday, February 13.
Truong told police she was approached by the man, who grabbed her and attempted to take an envelope that contained cash.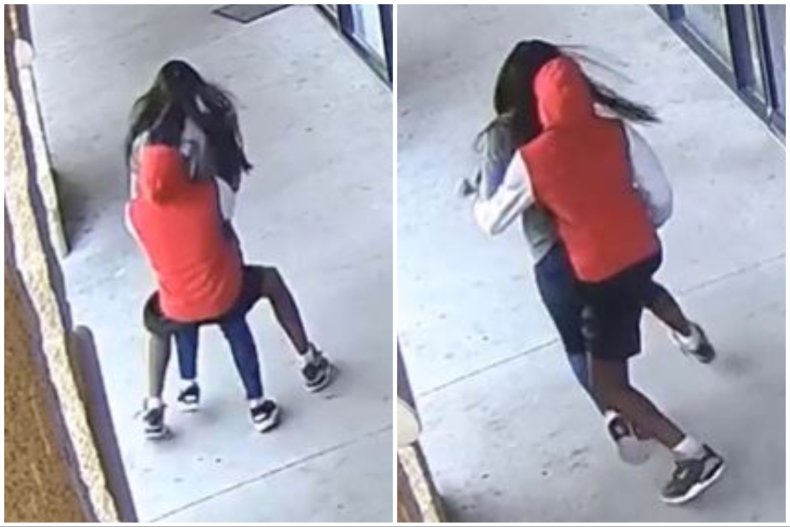 A statement from the Houston Police Department on Friday said: "The complainant dropped her possessions on the ground, so the suspect grabbed what he thought was the envelope and began to run away when he realized he had the wrong envelope.
"The suspect then ran back to the complainant, picked her up, and body-slammed her onto the ground. The suspect grabbed the envelope containing the crash and then fled the location."
According to figures from the Texas Department of Public Safety, there were 22,320 robberies in the Lone Star State in 2021, down from 26,750 in 2020. The change represents a drop of 16.6 percent.
The public safety department added that the crime rate for robberies was 75.6 for every 100,000 people in Texas in 2021, a fall of 17 percent from 2020.
Surveillance footage showed the robber body-slammed Truong at one point during the attack and left her on the ground.
According to Fox26, the attack left Truong with a damaged spinal cord and she is now paralyzed, unable to walk or use the bathroom alone.
The single mother now relies on a wheelchair and is being helped by her three children who are aged 13, 15, and 20, and are all in education.
Family members told the network that the man stole about $4,300 from them and that money had been saved up so she could visit family in Vietnam.
Truong told Fox26: "I'm feeling very horrible and sad at the same time."
Her son, An Duong, added: "I can still go to school, but my mind is just messed up thinking about her, worrying that nobody is going to watch out for her.
"It's been really bad. We have to pay rent and stuff and she's the only one that can work and help us. We don't know what to do," her daughter Van Duong said.
The family told the network that doctors believe there is only a 50 percent chance that Truong will make a full recovery.
Van added: "If a miracle happens then she can walk again."
Police have said the suspect they are looking for is a Black man in his early 20s of skinny build between 5'8 and 5'9 in height and is estimated to weigh 140 lbs.
People have been asked to contact Crime Stoppers of Houston directly if they have any information related to this investigation. Information leading to the charging and/or arrest of any felony suspects may result in a cash payment of up to $5,000.
Tipsters must contact Crime Stoppers directly to remain anonymous and to be considered for a cash payment by calling 713-222-TIPS (8477), submitting an online tip at www.crime-stoppers.org, or through the Crime Stoppers mobile app.
Newsweek has contacted the HPD for comment via email.