Woman Looking For New Pet to Adopt Finds Dog She Lost Years Ago at Shelter
Aisha Nieves of Allentown, Pennsylvania began browsing the adoption webpage of the Lehigh County Humane Society's (LCHS) website on June 18 with the hopes of finding a new pet for her two sons.
That's when she saw Kuvo, the tan pitbull-rottweiler mix that she lost over two years ago.
"I thought, 'Wait, that can't be him,'" Nieves told The Morning Call. But then she noticed the small scar on his eye from when he injured himself on a gate as a puppy.
She had first owned Kuvo when he was just seven weeks old. She named him after the arrogant but loyal lion cub with a scar over his eye in Disney's animated Lion King sequel films.
She cared for Kuvo from 2014 until May 2019. In that month, he escaped from her home by crawling through a hole in her gate, left by a driver who had crashed into it. When she came home one evening, Kuvo wasn't there to greet her with his usual kisses and cuddles.
"I was four months pregnant with my younger son at the time," she said. "I had a lot of emotions going through me. I was crying, thinking the worst, thinking somebody kidnapped or hurt him. I was just devastated. He was there for me through everything, heartbreaks, ups and downs, and now he was gone. It was so hard to accept."
Little did she realize that the local humane society had picked up Kovu after residents discovered him in someone's yard.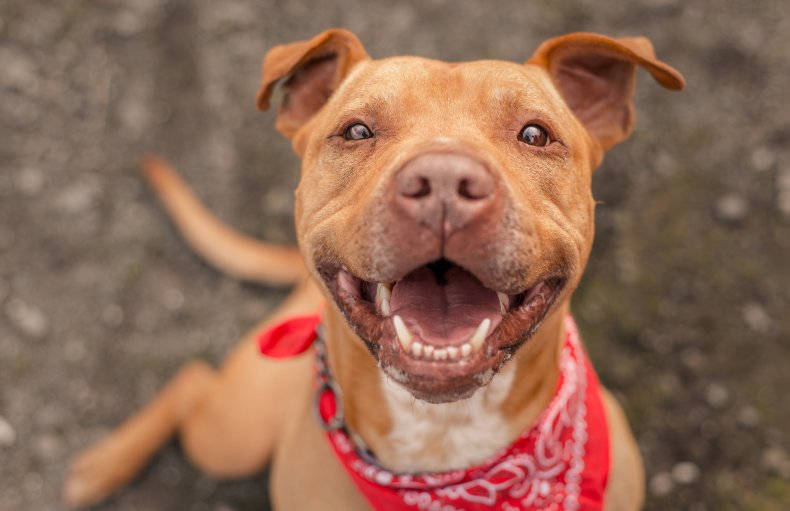 A family adopted Kovu in October 2019. But facing eviction, the family returned him to the shelter in good health on June 12, LCHS director of development Deirdre Snyder told the aforementioned publication.
The LCHS had renamed Kovu "Ash." But Nieves knew it was her lost dog after seeing his photo on the group's adoption web pages. Nieves immediately contacted the LCHS. The group told her that to get him back, she would need to bring an image of her with Kovu and an adoption fee.
When the LCHS brought out Kovu to meet her, he immediately began smiling and wagging his tail, Nieves said.
"I automatically go on the floor, like to get down, get ready, because I know he's going to jump on me," she told WFMZ-TV. "As soon as he started coming, he started squealing and screaming and yelling."
On its Facebook page, the LCHS posted images of Nieves and Kovu's reunion.
"Upon seeing his long-lost mom, the previously shy and scared Kovu let out the most excited squeal we have ever heard!" the LCHS wrote.
After Kovu went missing, Nieves said that she felt like a piece of herself was missing. She would look at old photos of the dog and cry. Now that Kovu has returned home with her, she said it feels like he never left. The two just celebrated the dog's seventh birthday, and she has pledged never to lose him ever again.
Newsweek contacted The American Pit Bull Foundation for comment.