Woman Loses Mom, Grandmother, Fiancé 5 Days Apart to COVID
A woman in Florida is mourning the loss of her mother, her grandmother and her fiancé from COVID-19 within a five-day time span.
Tiffany Devereaux, who resides in Nassau County, is urging the public to get vaccinated after her family members died while hospitalized with COVID-19, local station News4Jax reported. With the exception of her grandmother, her other loved ones had not been vaccinated, Deveraux, who also tested positive for COVID-19 with mild symptoms, said.
"I have officially reached the point where I am just beside myself. I am so thankful to God for allowing momma to hang on a little bit longer until my sister and I could be at her bedside, holding her hands while she went calmly and peacefully to Heaven," Deveraux wrote in a July 29 update posted to a GoFundMe page managed by a neighbor to benefit her family.
Two days earlier, on July 27, the grieving woman said goodbye to her 35-year-old fiance, Britt McCall.
"This hurts my heart like nothing else to update that my sweet Britt was called home to Heaven yesterday morning at 2:26 am. He fought so hard and God finally decided to let his weary soul rest," Devereaux wrote in a previous GoFundMe update.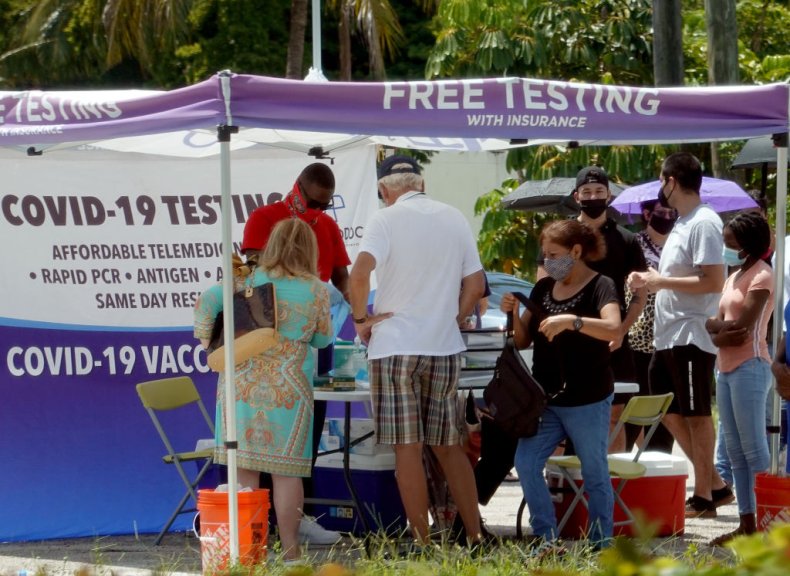 That second death came just three days after the July 24 death of her grandmother.
"It is with great sadness and an extremely heavy heart to update that my mema has passed away," Devereaux wrote. "Although she is no longer suffering and finally at peace with granddaddy, we are and will be mourning a great loss for weeks to come."
Deveraux told News4Jax that her mother and fiancé urged her to get vaccinated before they died. "My mom and fiancé, their last wish was for me to get vaccinated. They told me how painful this virus was. I just want everyone to know how important this is," she said.
The woman said that she doesn't know how to feel or what to think in the wake of the devastating losses. "I want my loved ones back. They're the ones that always got me through the hard times in my life and now they're all gone," she said.
The crowdfunding campaign for the family has—as of Sunday morning—accrued more than $5,700 with an initial goal of just $1,000.
Public health experts, as well as leading Democratic and Republican politicians, continue to urge the unvaccinated to get their jabs. Doctors and lawmakers have repeatedly asserted that the vaccines are safe and effective, with a far lower risk from negative side effects than the impact of the novel coronavirus. With the Delta variant of COVID-19 continuing to surge across the country, public health officials have warned that the new strain is more contagious and more severe than the original.
Nearly 70 percent of Americans over the age of 18 have received at least one dose of the vaccines, while more than 57 percent of all Americans have gotten at least one jab, according to The New York Times tracker. Just over 60 percent of adults have been fully vaccinated while nearly 50 percent of all Americans have received both doses.
Newsweek reached out to Devereaux through the GoFundMe page for further comment but did not immediately receive a response.