Woman Mails 'Thoughts and Prayers' Check to Republican Congressman After Shooting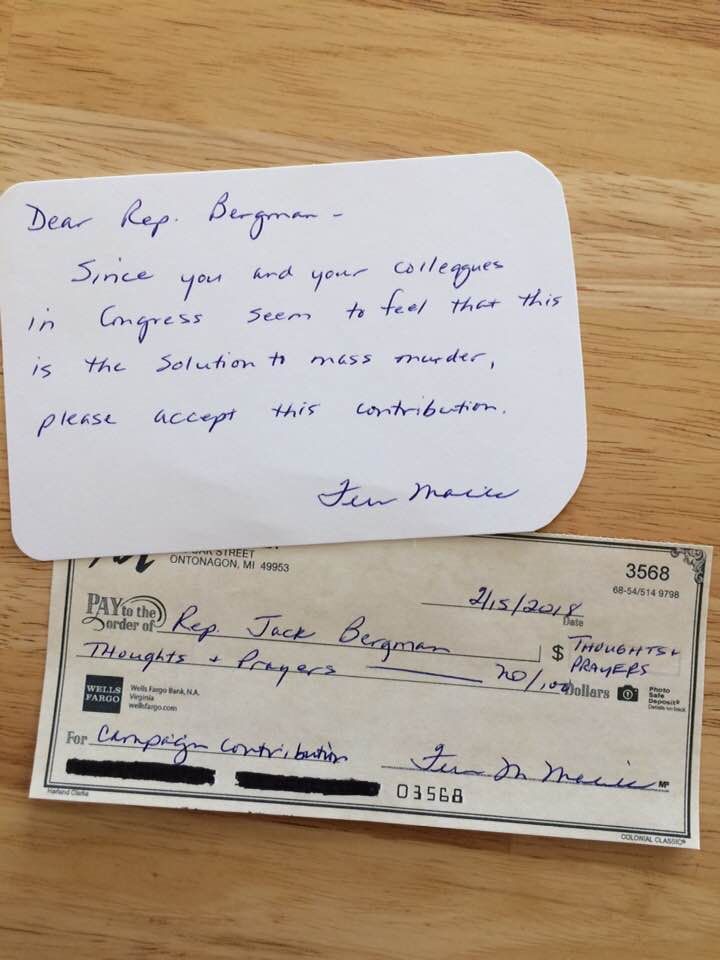 Amid endless calls for "thoughts and prayers" instead of legislative action in response to mass shootings, a woman in Michigan decided to take matters into her own hands.
After Wednesday's mass shooting in Parkland, Florida, Fern Malila mailed a letter and a check in the amount of "thoughts and prayers" to Representative Jack Bergman, a Michigan Republican.
"Dear Rep. Bergman," she wrote, "since you and your colleagues in Congress seem to feel that this is the solution to mass murder, please accept this contribution."
With the short letter, which she posted on her Facebook page, she sent a check to the congressman, with the popular expression instead of a dollar amount.
"I did it because I'm hearing the same arguments after each and every time this happens," Malila explained to Newsweek on Friday. "Each and every news media person says contact your congressman, and Congress doesn't do anything."
The Thursday afternoon post quickly went viral, as commenters indicated they were inspired to follow suit.
"My check is going in the mail today to Senator Marco Rubio — another NRA puppet!" one Florida resident wrote. "Thanks for the inspiration!"
Another wrote, "I love you Fern!!"
Criticism of the "thoughts and prayers" refrain has become increasingly common after each mass shooting, as constituents demand answers about why concrete action has, in large part, not been taken.
Related: What gun laws passed in 2017?
On Thursday, CNN's Wolf Blitzer grilled Florida Governor Rick Scott, a Republican who also offered his thoughts and prayers, about what he planned to do to prevent future mass shootings in his state. When the governor offered a vague "everything's on the table," Blitzer fired back, "Including gun control?"
Scott responded, "Wolf, I'm going to do—it's a lot of things.... It's looking at, you know, who should have guns. Should individuals with mental illness have guns? What can we do to create more safety in our schools?"
Malila, whose post garnered tens of thousands of shares and likes within a day, said she didn't expect the nationwide attention or the overwhelmingly positive response, but sees it as a sign that Americans are frustrated with congressional inaction.
"Maybe it's because people just feel that it's something they can do and hopefully make some little difference," she said. "For whatever reason, it has struck a chord."