Woman Mortified After Dog Pukes in the Back of Zoom Call With 30k Listeners
A Ph.D. student has shared the awkward yet hilarious moment her dog audio-bombed her virtual conference by loudly hurling in the background. In just four days the video has been viewed by almost a million people online.
Ellie Hurer is studying her Ph.D. in biochemistry at the University of Hertfordshire in England, and was answering questions from a virtual live audience about the mix of her profession and social media. Hurer runs an Instagram account with 19,000 followers where she shares relatable posts about life as a Ph.D. student along with living with submandibular tumors.
"My dog threw up in the background of me talking to a live audience of 30k+ people," she wrote on screen, sharing the footage of the moment.
Hurer began by answering a question from the presenter, explaining: "It is cool to be a scientist and an inventor and we need to change the world and show that," before being cut off by an unavoidable sound.
Her 12-year-old dog was loudly hurling in the background, leaving Hurer attempting to continue on but seemingly forgetting her words. "My mind went blank," she wrote onscreen as her dog continued to loudly throw up in the background.
Luckily for Hurer, the host seemed to ignore the noises and simply replied to her answer, completely blanking out the sounds.
It wasn't just an audience of 30,000 that were witness to the moment either, as Hurer explained that "world class scientists, inventors and Nobel laureates" were all watching on too.
The video can also be seen in full here.
Newsweek has contacted Hurer for comment.
"The way you got close to the mic to try to block the sound too," noted one entertained viewer.
"Maybe he disagreed with the point you were making," joked another.
Rest assured, Hurer's dog is now completely fine and was simply vomiting as he's "just old," according to comments from the TikToker.
"I'm glad i'm making people laugh loads," wrote Hurer in response to the mass reaction the video has received online, adding that it "makes [her] happy."
For those of us who shifted to virtual meetings, calls and learning over the past 18 months or so, Zoom faux pas are a thing of nightmares, leaving people triple-checking mics are turned off and analyzing embarrassing backgrounds.
In July, another TikTok user went viral for her accidental embarrassing moment during a professional Zoom call, just like Hurer. As reported by Newsweek, Alexandra Ceberio, accidentally left her mic on while filming herself ranting about her new co-workers, only to be notified she could be heard.
"My work from home fit today, some f*****g bulls**t, because I got ready, and everybody has their cameras off," she said, before a male co-worker interrupted her. "Hey guys, I can hear, just so you're aware," he said.
"I literally went blank. I was thinking in my head, 'What did I just say?'" she told Newsweek. "I sent it out on [Snapchat] before I re-watched it."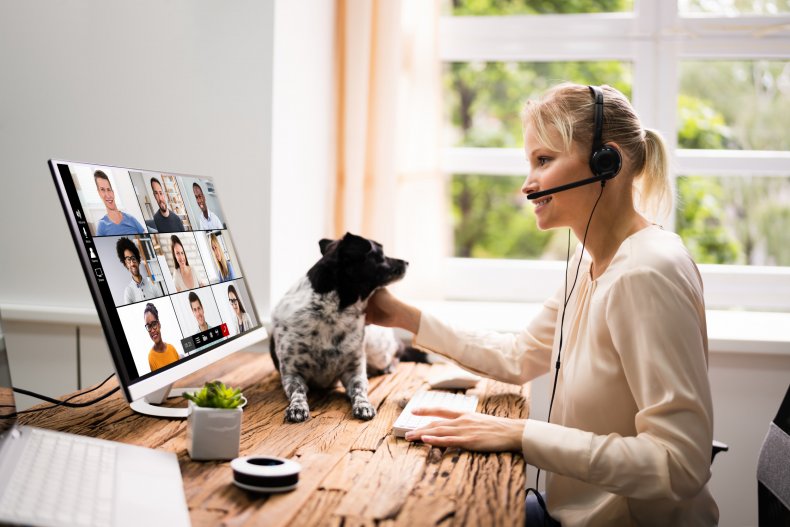 UPDATE 10/21/21 12:20 p.m. ET: This article was updated to include a new picture.