Woman With Nonverbal Autism Defies Detractors to Graduate at Top of Class
The valedictorian of an Orlando-area college urged her classmates to use their voices during her commencement speech, noting the irony that the advice was coming from a non-speaking woman with autism.
Elizabeth Bonker, valedictorian of Rollins College in Florida, delivered her now-viral commencement address on Sunday without speaking a word. Affected by a form of autism that leaves her unable to speak, Bonker gave the address through text-to-speech software, asking her classmates to continue serving others while celebrating the shared achievement.
Bonker described how she struggled her whole life to be heard and accepted. She recalled how her local newspaper reported that the principal at her high school reacted incredulously that she would be valedictorian and used a slur to describe her.
"Yet today, here I stand," she said. "Each day, I choose to celebrate small victories, and today, I am celebrating a big victory with all of you."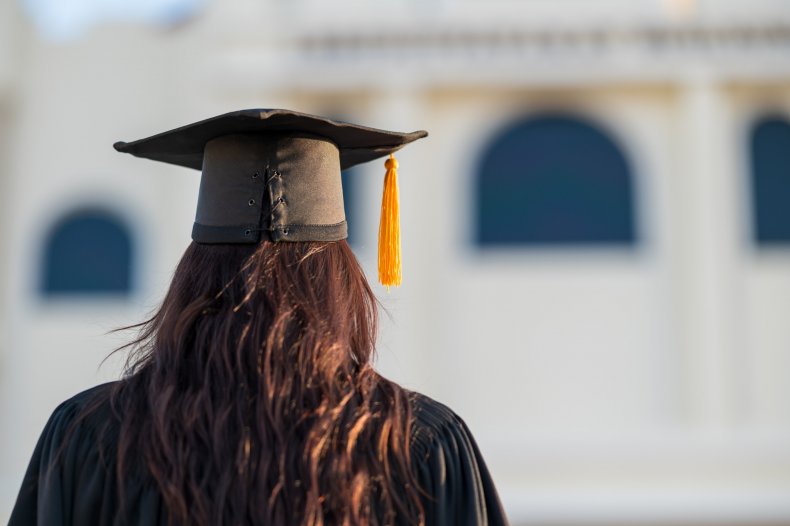 Bonker said she is among the few non-speaking people with autism who have been taught to type, saying the intervention "unlocked my mind from its silent cage." She said her neuromotor issues prevent her from tying her shoes or buttoning a shirt without assistance, and she typed the speech with one finger with a communication partner holding the keyboard.
"There are 31 million non-speakers with autism in the world who are locked in a silent cage," said Bonker. "My life will be dedicated to relieving them from suffering in silence and to giving them voices to choose their own way."
Bonker, 24, who majored in social innovation with an English minor, has also founded the nonprofit Communication 4 ALL, dedicated to helping non-speaking people with autism communicate.
A recent study found that 25 percent to 35 percent of children with autism spectrum disorder are minimally verbal. Approximately one in 44 children in the U.S. are diagnosed with autism, according to federal numbers. And an estimated 40 percent of people with autism are non-speaking, but only a "small fraction" have been taught how to communicate, according to Communication 4 ALL.
Bonker told Newsweek in an email that she will soon start a 20-city tour for Communication 4 ALL to share its message that non-speaking people with autism can be taught to type. She said the nonprofit will also be sharing the documentary In Our Own Hands and her album of advocacy songs featuring music by The Bleeding Hearts and a guest spot by guitarist Tom Morello of Rage Against the Machine.
"I am not special," she said. "We need to change the way the world sees non-speaking autism. It is a neuromotor disorder, not a cognitive one."
Since her speech has been widely shared, Bonker said she has been "overwhelmed" by the support. Bonker had help getting to where she is.
"Elizabeth spoke until she was 15 months old, and then suddenly her words were gone within hours," Virginia Breen, Bonker's mother, told WKMG-TV News 6.
But Breen said she wouldn't give up on her daughter and began trying different methods to help her communicate. Bonker started pointing at a letter board and now uses a wireless keyboard and iPad.
"She's teaching us all a new way to communicate and that we're going to be more open to seeing it and helping people to use it in the future," Rachel Newcomb, Bonker's professor, told the station.
During her speech, Bonker recalled a story during her freshman year about the college's most famous alumnus, Fred Rogers, better known as "Mister Rogers." After his death, a handwritten note was found in his wallet, reading "Life is for service," said Bonker.
She asked her classmates to tear off a small piece from their commencement program and write the same message and keep it in their wallets. She said they could share how the notes reminded them to serve others at class reunions.
"Whatever our life choices, each and every one of us can live a life of service—to our families, to our communities and to the world," said Bonker. "And the world can't wait to see our light shine."
Update 5/13/22, 7:45 p.m. ET: This story has been updated with additional information and background.