Woman Grabbed by Throat and Detained After Not Wearing Mask While Walking Dog
Videos have emerged of a woman being forcefully detained by several police officers after she was seen not wearing a mask in Italy, where strict lockdown rules are in place.
The woman was seen without a face covering while walking her dog in Florence's historic Pellicceria district, according to a witness interviewed by Italian news outlet ilgiornale.
"Three municipal police officers, two women and a man started chasing the lady, stopping her under the arcades because she was not wearing a mask," said the onlooker, who claimed the woman had refused to provide information showing she was exempt from wearing a face covering.
Since 8 October, people across Italy have been required to wear a face mask at all times outside their homes, unless they are in isolated places or doing sports.
In the video, which was posted on social media, a police officer can be seen holding the woman by the arm as she is being questioned. According to witnesses, the woman appeared uneasy about the police touching her.
At this point, a large crowd gathers, with several police officers in view.
One officer attempted to take the dog leash from the woman. After a struggle, a male officer appears to grab the woman by the neck. Shouts can be heard and the dog barks and jumps up at the woman.
Later in the footage the woman's arms are put behind her back, she is handcuffed and escorted by officers to a police car. She shakes her head as she is pushed into the vehicle.
Another witness told ilgiornale "there were a lot of agents against a single woman," adding that the crowd had chanted "buffoons, buffoons," at the officers involved.
The dog was left to its own devices after the incident, before a friend of the the woman's daughter spotted it and took the pet to its owner's home, according to local news reports.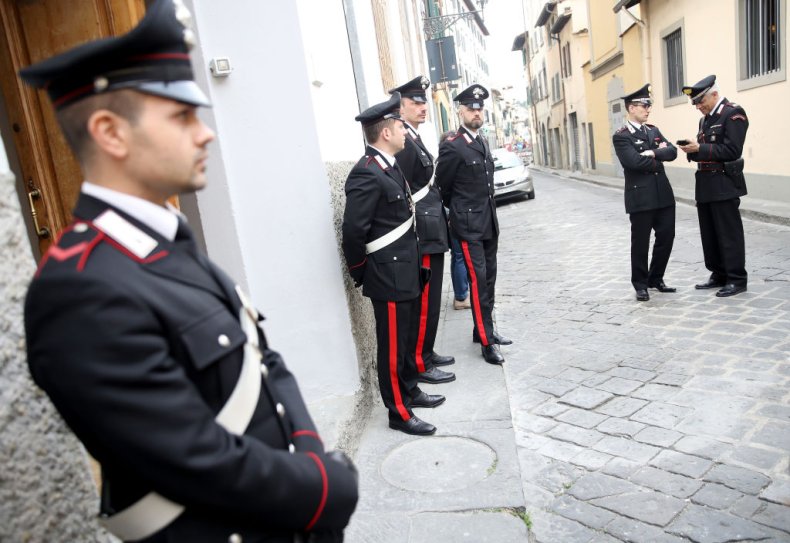 Italy has recently enforced its strictest regulations since it was in lockdown in spring. On Sunday, the country's Prime Minister, Giuseppe Conte, announced that swimming pools and movie theaters would be closed and bars and restaurants would be shut at 6pm.
"We need to do as much as possible to protect our health and our economy and avoid a second general lockdown," said Conte, on Sunday. The new strict measures have been announced in an attempt to reduce the spread of coronavirus.
There are currently around 20,000 daily coronavirus infections in Italy, with the totally number of confirmed infections at more than 500,000, according to government data. The countries COVID-19 death toll stands at more than 37,000.