Woman Paints Hundreds of Rocks to Help Find Her Fiancé a Kidney Donor
A woman painted hundreds of rocks that ended up hundreds of miles from home to help her fiancé find a donor for a kidney transplant.
Robert Fallon was diagnosed with an aggressive form of kidney disease in 2017, WFLA reported.
In a bid to help the then 22-year-old, Krystal Sparks painted hundreds of rocks calling for a donor, with her then boyfriend's blood type and an e-mail address to contact. "My boyfriend needs a kidney!" she wrote on some of them.
She started by leaving the rocks in Elk Creek, Virginia, but then their friends and family pitched in to help and spread them across the county and abroad.
Sparks, 22, said when she first started, she would leave the multi-colored rocks at stops on the way to doctor's appointments and other trips.
"I started painting rocks and at first, it was just us that was spreading them and we would spread them on the way to Roanoke and on the way to Charlottesville to his appointments and stuff," Sparks told WFLA.
When Lisa Brandt, of Cape Coral, Florida, came across Sparks' posts on social media, she decided to inquire about becoming a donor.
But when she couldn't donate, Brandt, who is part of the Cape Coral Rocks Facebook group for rock-painting enthusiasts, said she wanted to help Sparks spread her message.
"I really wanted to see if I could help," she told Newsweek.
She said she sent some of the rocks to Colorado and Indiana as well as some to Germany with her mother-in-law. Brandt added that she also spread some in Italy during a visit last year "just to get the word out there."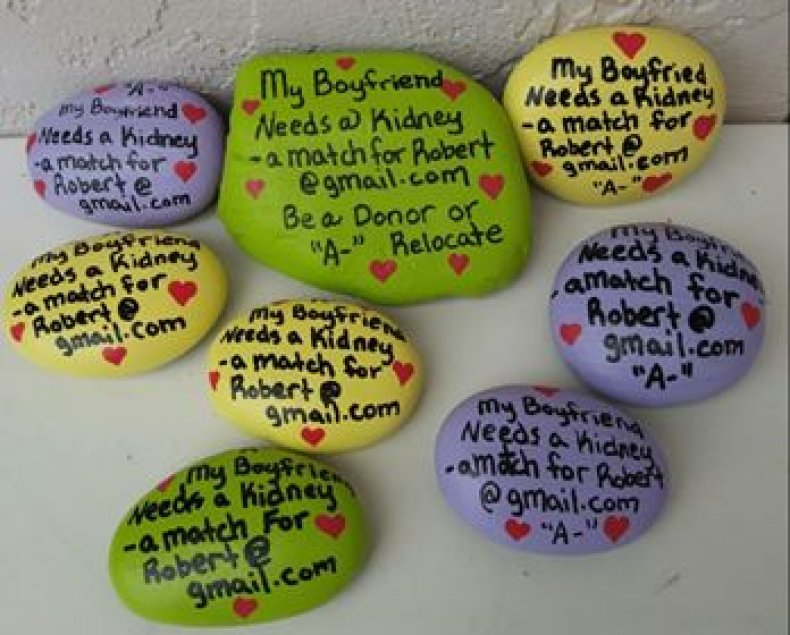 Brandt added: "Since I couldn't donate, I wanted to help. I wanted to help be Krystal's voice and help get her special message out there. So I started painting rocks with her message. I spread some here in Cape Coral, I sent a couple to a friend of mine in Colorado and Indiana to have them spread them for me.
"I sent a couple with my mother-in-law to Germany and I myself went to Italy just this last September and spread a couple out there. Far apart from one another. I wanted to spread the word as far as I could just to get the word out."
The couple, who got engaged last month, said they are thankful for Brandt's help in spreading their message so far and wide. Sparks said it made her "heart explode." Fallon added to Wink News: "It gives you hope that there's still good people in the world."
Fallon said the search for a kidney donor had been excruciating, adding that every day he wondered: "Is today gonna be the day?"
And more than two years after the search started, he found a donor and underwent his kidney transplant in January.
In a post on Instagram, Sparks explained that a "wonderful woman" who lived in a town near them had decided to donate her kidney to Fallon—but as she is older than Fallon, doctors decided her kidney would benefit another patient more. But thanks to her donation, another kidney became available for Fallon.
Athough Fallon's search for a kidney is over, the couple still hope to continue to use the painted rocks to spread awareness about organ donation for others.