Woman Pays $500 Water Bill with Pennies In 'Peaceful Protest' Against Cost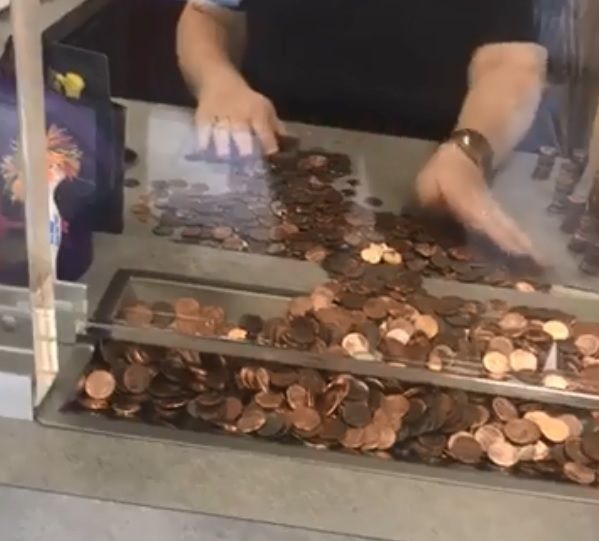 A woman in Deltona, Florida, paid a water bill costing nearly $500 in pennies as part of a protest over the escalating costs from the utility company.
Dana McCool uploaded a video onto Facebook showing her dropping off a suitcase and several bags of pennies to Deltona Water's customer service office after becoming increasingly frustrated with the amount she is being asked to pay, reports WFTV.
McCool said she made the "peaceful protest" against the company over the $493 bill following problems stemming from 2016 after she received several bills as high as $700 for about six months, way above the average costs of around $40.
Deltona Water reimbursed McCool for nearly $1000 after it was found there was a leak in her irrigation system, with an expansion tank also being removed.
However, McCool said she is still forced to deal with back pay and other fees, resulting in the latest bill of nearly $500.
Several other local residents have also complained to WFTV about their water bills shooting up to hundreds of dollars over the past few months.
In a seven-minute video on Facebook Live, McCool states paying off the bill in pennies is a "peaceful form of protest over some water bills that I did not owe. A majority of the people I have spoken to say the same thing has happened."
McCool added: "I just hope that other people examine their water bills and know that they are not alone."
The staff at Deltona Water are said to have taken more than three hours to count all the pennies handed in by McCool. During the clip, McCool noted that the front office employees undertaking the mammoth task of counting more than 49,000 pennies "have been more than kind about doing this. They're professional, upfront…it's not [about] them it's their bosses in the back."
Speaking to WFTV, McCool said she hopes her protest will inspire others to act. "Each of those pennies represent a resident that needs a voice," she said.
Deltona Commissioner Anita Bradford previously said she began investigating the issue of the rising water bills in the area after she received about a dozen complaints.
"It's that silent bomb that explodes when you get it in a piece of paper and you're not expecting it," Bradford said. "I sympathize with them. The biggest thing I can recommend for them to do is to immediately jump on the situation."