Woman Threatens to Pepper-Spray Man Because His Dog Wasn't on a Leash, Questions His Citizenship: 'Are You From This Country?'
A Massachusetts man has posted a video online showing a white woman threatening to pepper-spray him and his dog and asking "are you from this country?" because the animal was off its leash in a park.
The man, who asked to only be identified as Mohamed, recently moved to the Jamaica Plain area of Brookline, Boston. He posted the video of the woman confronting him on Facebook on August 5, where it has since been viewed more than 20,000 times.
"This happened today at a park in Boston because I didn't have my dog (who isn't bothering anyone) on a leash," Mohamed wrote. "She wanted to pepper-spray me, my dog and also sprinkled in some 'you're not from this country hope you got your paperwork' before she called the cops. Goes to show some folks really don't like us."
Mohamed's clip begins after the woman allegedly first threatens to pepper-spray his dog, who can be seen without a leash in a pond.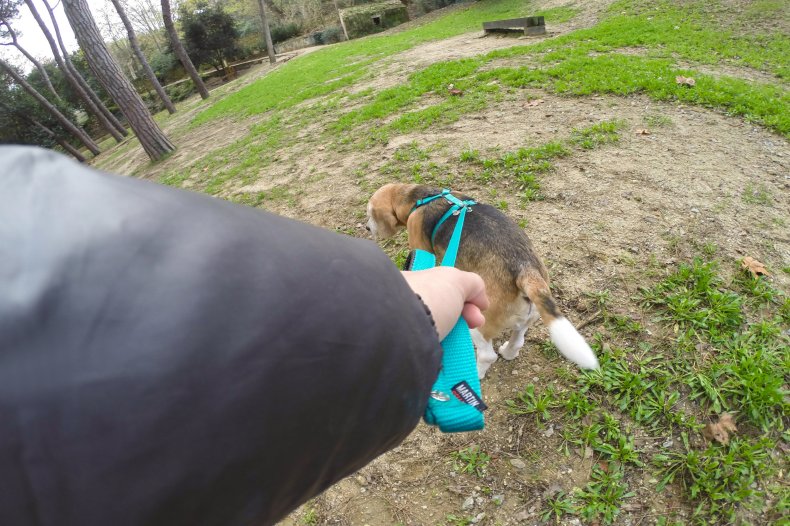 The woman tells Mohamed that he is breaking state law by not having the dog on a leash. "If you have a dog you might as well get responsible about it," she adds. She then incorrectly tells him that it is illegal to film her, despite them both being in public property.
"Are you from the U.S? Are you from this country?" she asks.
"Oh, that what is this about. Am I from his country?" Mohamed replies. "Now it makes sense."
"You seem to be completely ignorant of any law here," the woman adds.
Mohamed then accuses the woman of being a racist who likes to call the police on people for no reason.
"I like to call them on ignorant people like you," she adds.
"Who are not from this country, right?" Mohamed asks. "Yes, that's correct," she responds. "I hope you've got you paperwork with you buddy."
The woman then threatens to pepper spray Mohamed as she's walking away, before once again saying she's going to call the police because he is filming her.
"There's racism, and people can be cruel, especially when they're coming from a position of power," Mohamed told Patch. "It's important for people to be aware that this kind of thing happens and it's not often on video. People often dismiss it as over-exaggeration."
Discussing how the incident occurred, Mohammed said: "Thinking back... she must have identified me speaking in a foreign language," adding he sometimes speaks Arabic whilst on the phone.
In a follow-up post on Facebook, Mohammed said police did arrive at the scene but left soon afterwards. "They said she was being aggressive but nothing that I know came of it," he added.
Woman Threatens to Pepper-Spray Man Because His Dog Wasn't on a Leash, Questions His Citizenship: 'Are You From This Country?' | U.S.