Woman Pepper Sprays Karaoke Bar Employee, Flees When Card is Declined
Two women are wanted and on the run after allegedly assaulting a karaoke bar employee with pepper spray after their card was declined at a venue in Virginia Beach.
The women were leaving the Grammy Karaoke bar on Lynnhaven Road on the night of April 9 and went to pay the bill when their credit card was reportedly declined.
One of the women "became upset and punched the plexiglass which hit the victim in the face causing his nose to bleed," the Virginia Beach Crime Solvers said in a statement.
She then grabbed her ID and credit card and left without paying the bill.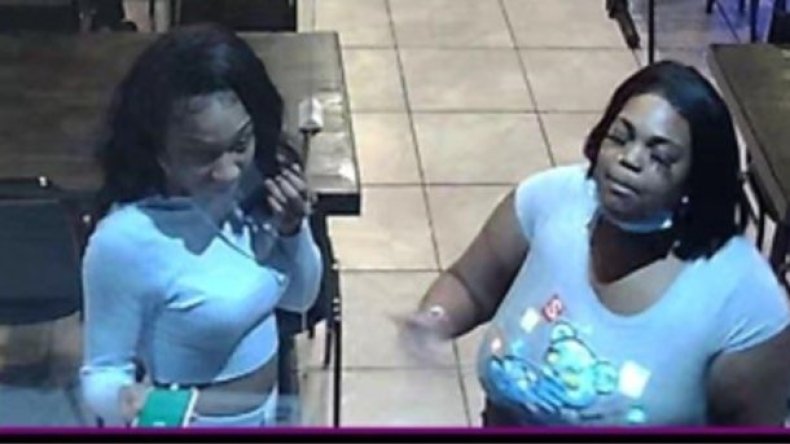 The victim followed the suspect in an attempt to stop her from leaving but was pepper sprayed by the woman before she jumped in a black or silver sedan and fled the scene.
The pair had reportedly spent "several hours" at the venue "drinking alcohol and singing karaoke."
As they fled the venue, their car reportedly sideswiped another vehicle causing minor damage before speeding off.
Virginia Beach Crime Solvers released a series of photographs of the women taken from surveillance footage prior to the attack.
The pair are facing several charges including assault, felony assault, defrauding, and hit-and-run, WAVY reports.
Newsweek has contacted the Virginia Beach Police Department for comment.
Last month, a video shared online showed a brawl break out between female employees and staffers at Bed & Bath Works in the Scottsdale Fashion Square Mall in Arizona.
Twitter user @gendenslow, who claimed to have witnessed the fight, posted a minute-long video of the incident to the social media platform on Sunday, March 7. "A whole fight just happened at bath & body works. I'm dying," she wrote.
The user later said that the fight started after a female staffer went off at a customer for standing too close to another customer amid the coronavirus pandemic.
"IT ALL STARTED BECAUSE... white lady was standing too close to another customer (not shown) & they started arguing. BBW employees tried to de-escalate but the white lady wouldn't leave so that's where the video picks up," @gendenslow tweeted. "White lady pushed many people before hand also.... she was loud & uncooperative the whole time before the fight started."
The customer accused of standing too close was also not wearing a mask, but it is unclear whether that was related to the brawl.
The clip quickly went viral, and has been viewed more than 11.5 million times since being shared over Twitter.