Woman Plays Dead After Being Attacked by Moose
A woman out for a walk near Winter Park in Colorado was attacked by a cow moose on Sunday. Colorado Parks and Wildlife responded to the attack, which was one of several moose attacks that have occurred this year.
According to a press release from the Colorado Parks and Wildlife, the woman, identified as Diane Israel, was attacked between 4:30 and 5:30 a.m. when she was walking in the dark. The moose knocked her down twice. After Israel was knocked down for the second time, she played dead. The moose then left and the woman hiked to seek medical help for injuries to her back, leg and wrist.
"She was walking in good moose habitat without a light in the dark, so we suspect she walked right into the moose," said Colorado Parks and Wildlife Area Manager Jeromy Huntington. "Trails next to water often make for a great hiking experience, but they're also often near great moose habitat. Hikers should choose routes with good visibility and be extra cautious when walking in close proximity to willows and thick habitat."
This is the second moose attack in the area that was reported in less than a week.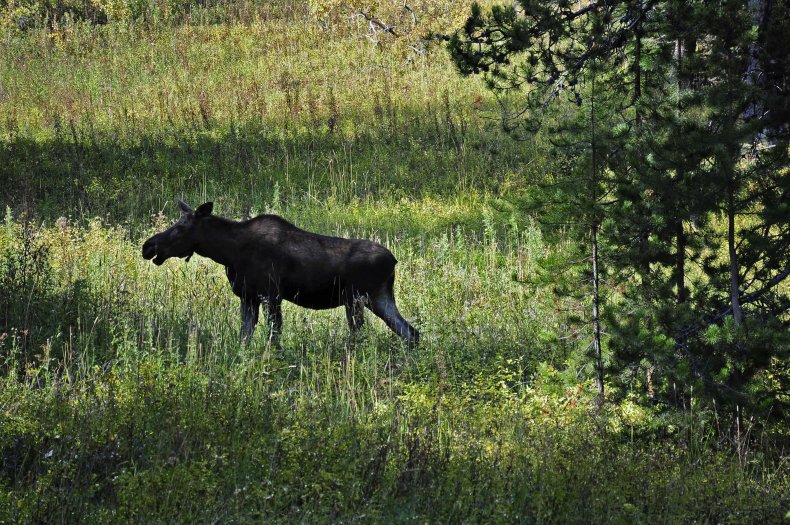 Travis Duncan, the press information officer for the Colorado Parks and Wildlife, told Newsweek that a man was out for a run in the afternoon with his off-leashed dogs near a moose habitat when he was attacked. He said the man was running in the same area as the woman but on a different trail.
Because moose may see dogs as predators, Duncan said hikers are strongly encouraged to keep them on a leash. Moose are also territorial and may charge if they are startled.
In the event that someone comes across a moose, Duncan said they should create distance, back away slowly and put something between themselves and the moose, like a tree or a large rock.
Following the man's attack, Duncan said additional signs were posted for hikers to note that they were near a moose habitat.
Israel told CBS4 she played dead for about 10 minutes before hiking several miles to receive medical treatment. She is now expected to undergo surgery.
Duncan told Newsweek that moose attacks aren't particularly common in the area but they can occur. When they do happen, he said officials from Colorado Parks and Wildlife will attempt to locate the animal and move it to a different area.
He said Colorado Parks and Wildlife urges people to be aware of their surroundings and to prepare for their trip by understanding the trail's conditions.
Newsweek reached out to Diane Israel but did not hear back by press time.