Woman Pleads Guilty to Casting Dead Mother's 2020 Ballot, Temporarily Loses Right to Vote
An Arizona woman pleaded guilty to illegally casting her dead mother's vote in the November 2020 election and is awaiting sentencing.
Arizona is one of several states where Republicans conducted an audit of the 2020 presidential election. Former President Donald Trump and his supporters claim he lost the state because of massive voter fraud, which has continuously proved to be untrue.
President Joe Biden won Arizona by a little more than 10,000 votes, according to the Associated Press.
Tracey Kay McKee of Scottsdale was charged with illegal voting and perjury, but the state Attorney General's Office dropped the perjury charge under a deal in which she pleaded guilty to a reduced felony charge of attempted illegal voting. She entered the plea on January 26 in Maricopa County Court.
McKee, one of 10 people charged with voter fraud in Arizona relating to the 2020 election, according to AP, is expected to be sentenced to probation, possibly serving 90 days in jail. She also will need to pay roughly $1,800 in fines and will lose her right to vote until she serves 100 hours of community service and completes probation.
Sometime between October 7, 2020, and November 3, 2020, McKee signed the ballot belonging to her mother, Mary Deloyht Arendt, and mailed it in. Her mother died on October 5, 2020, according to KPNX-TV.
"Tracey Kay McKee knowingly signed the name of [Mary Deloyht Arendt] to a declaration under penalty of perjury located on the November 3, 2020, General Election early ballot envelope for deceased elector [Mary Deloyht Arendt]," charging documents read.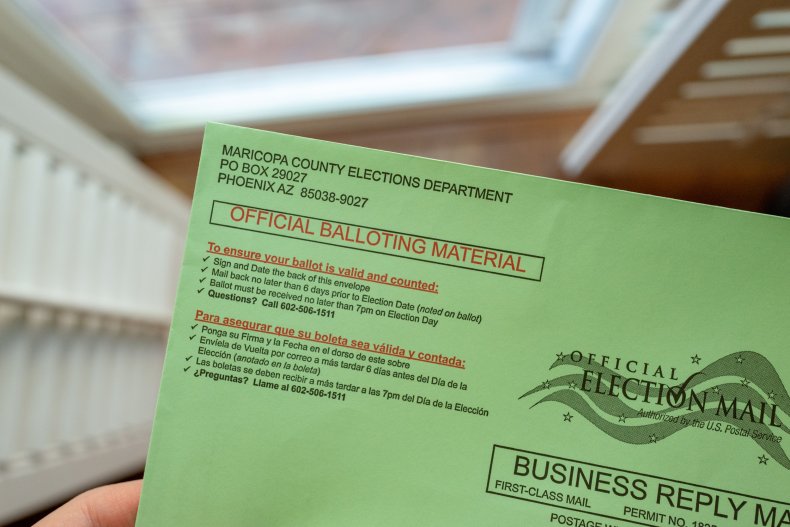 The fraud was discovered by the group EZAZ.org, according to KPNX-TV. EZAZ.org advocates to get voters engaged in a positive way, according to its website.
Merissa Hamilton, the organization leader, said her team found 450 voters who might have been dead and presented the list to the Attorney General's Election Integrity Unit. According to KPNX, McKee's case is the only one being prosecuted out of the attorney general's investigation.
Jack Sellers, the Republican Maricopa County Board of Supervisors chairman, previously told Republican state senators "to finish whatever it is that you are doing and release whatever it is you are going to release."
After Cyber Ninjas released its audit results last year showing that Biden won by an even larger margin than the original count, state Senator Sonny Borrelli insisted that audit was a "conspiracy to cover up" the results.
McKee is a registered Republican, as was her mother before her death, according to KPNX.
AP conducted a review that found 230 cases of potential voter fraud in Arizona. Prosecutors decided that none of the 151 found in Pima County warranted charges.