Woman Plummets to Death During Solo Skydive in Oklahoma: Police
A woman died after she plummeted to the ground during a solo skydive in Oklahoma, according to police.
Sallisaw police were alerted that someone had sustained injuries while taking part in a skydive at the City of Sallisaw Airport at about 3:30 p.m. on Saturday, February 18.
She was later identified as Heather Glasgow, 44, from Poteau, close to the Oklahoma-Arkansas border.
Officers said Glasgow "struck the ground" following an unknown issue that happened during the skydive.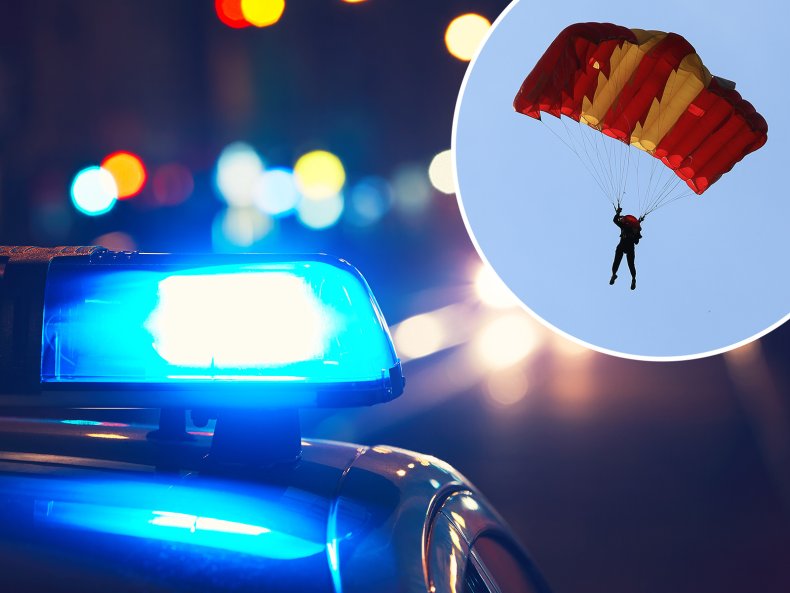 A Sallisaw police spokesperson said in a Sunday, February 19, Facebook post: "Witnesses stated her parachute had fully deployed, but she was in a spin that she did not recover out of.
"Emergency services tended to her very quickly after the incident and she was transported to Northeastern Health Systems Sequoyah for further treatment."
The Facebook post added: "Glasgow had previously conducted a tandem skydive as well as attending two first-time jump classes. These jumps and courses were attended at Adventure Skydive Center in Sallisaw, OK."
Police, the Federal Aviation Administration, and the Oklahoma Medical Examiner's Office have launched an investigation to determine the cause of death.
Are Skydiving Deaths Common?
According to the U.S. Parachute Association (USPA), there were 10 skydiving fatalities out of an estimated 3.57 million estimated jumps across the country in 2021.
The number of fatalities in 2021 was the lowest number in more than 20 years, according to USPA figures.
In July, Karen Bernard, 59, from Wildwood, Florida, died when her parachute reportedly malfunctioned while she skydived in upstate New York.
"Tandem skydiving—where you're attached to an experienced skydiving instructor for your jump—has an even better safety rate, with one student fatality per 500,000 jumps on average over the past 10 years," according to the USPA.
Skydiving Safety
Skydiving is much safer today than it ever has been due to improved safety standards and guidelines for participants.
According to Skydive California: "Today's skydiver always jumps with two parachutes – a main and a reserve.
"This means there is always a 'spare' should the main parachute fail to deploy correctly. The malfunctioning parachute is released by the '3 ring release system', pioneered by Bill Booth in the 1970s."
It added: "It's not just technology that makes us safer; improvements in processes help us keep track of our own equipment.
"The USPA even promotes a yearly 'safety day' for all skydivers to attend. This ensures their knowledge of safety considerations is up to date."
Newsweek has contacted the Sallisaw Police Department for comment.