Woman Plunges to Her Death After Falling From 'Infinity Pool'
A woman has plunged to her death, falling more than 130 feet from the top of a remote waterfall on Sunday.
The 58-year-old reportedly slipped from the popular beauty spot in a remote hiking area in Far North Queensland, Australia.
The woman fell just before 1 p.m. on Sunday from the top of Windin Falls, about 40 miles south of Cairns, Queensland pOlice said in a statement issued later that evening.
After an extensive land and air search, her body was found by rescue helicopter crews around 4 p.m.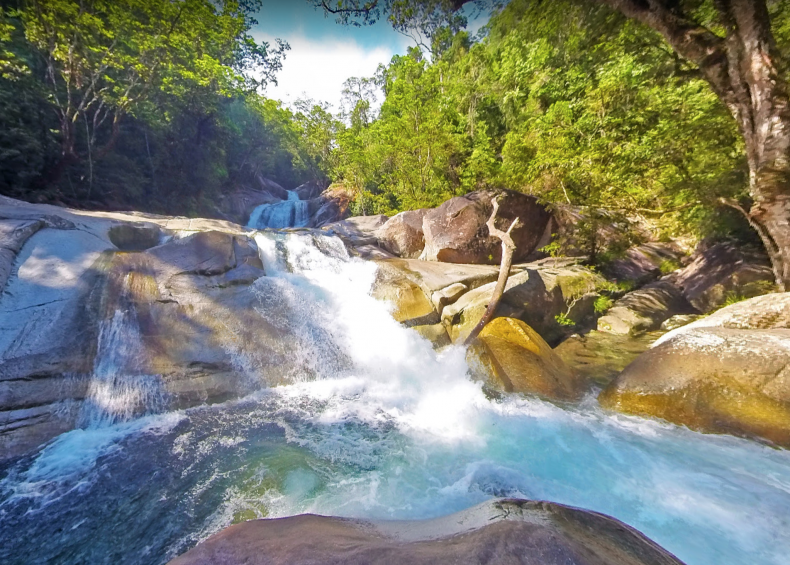 "We activated members from our Atherton and Malanda crews and actually took an ATV [all-terrain vehicle] in through the walking track that leads to Windin Falls," State Emergency Service area controller Peter Rinaudo told ABC News.
"Unfortunately, by the time we got there, it was determined that there was nothing that we could do to assist."
Windin Falls is a popular beauty spot for hikers and photographers alike looking to reach the natural "infinity pool" at the top of the falls, which overlooks a lush rainforest valley.
Many make the 90-minute trek to the picturesque spot to take a photo of the spectacular sight.
It remains unclear whether the woman was swimming in the pool or posing for a photo in the moments before she slipped to her death.
The remote waterfall is only accessible through the Old Cairns Track in the Wooroonooran National Park.
"Exercise extreme caution and stay back from the edges," the Tourism Tropical North Queensland website warns sightseers. "There is a natural infinity pool at the top of the falls that drops deep into the valley below."
Rinaudo also urged people to take caution, describing the area as a "very, very pretty place" but "one that can at times be quite dangerous as well."
"There's a couple of small pools that come from a nearby creek that then plummet straight over the side of a cliff face," he said. "So if you are in the water in the creek it's just like an infinity pool and you can look down the gorges down towards Palmerston National Park."
Queensland Police will prepare a report for the coroner.
Newsweek has contacted Queensland Police for comment.
A climber who became famous for taking photos of herself on top of mountains wearing just a bikini died after falling into a ravine in Taiwan in 2019.
Gigi Wu, 36, also known as the "Bikini Hiker" was found dead by rescue services after falling more than 65 feet into a valley near Mabolasi Mountain in Nantou County.
According to Taiwan News, Wu used a satellite phone on January 19 to call for help after she suffered injuries during her fall. The National Airborne Service Corps said they were unable to locate her using Black Hawk rescue helicopters on three separate occasions due to poor weather.
Wu's body was eventually found by the Nantou County Fire Department after they resumed the search on foot, close to where her distress beacon was sent from.
In a message to the Nantou fire service, Wu said she had become trapped because of her fall. Commander Lin Cheng-I, of the Nantou County Fire Department's Third Squadron, said Wu's distress beacon was activated at around 5,577 feet above sea level.
She is believed to have died of hypothermia as temperatures plummeted to around 35 F while she was trapped on the mountain.
Wu gained thousands of fans online by sharing pictures of herself on some of Taiwan's highest peaks wearing a bikini.