Woman Praised for Dumping Man After 9 Years as His Kids Won't Accept Her
The internet has sided with a woman who says she offended her ex-boyfriend's parents after they tried to get the couple back together.
The 38-year-old Redditor u/Comfortable_Help_356 shared the story on Wednesday on the popular r/AmITheA**hole forum where it has received thousands of replies and reactions.
She explained: "I was in a relationship with Mark for nine years. Mark was a widower with two kids when we met. His kids were unable to handle Mark moving on, so we discussed going slow and giving them room to accept it and if not, when they were both out of the house we could proceed at a faster pace."
The couple dated but didn't live together, and Mark did therapy with the kids to try and help them deal with their grief and the concept of their dad moving on.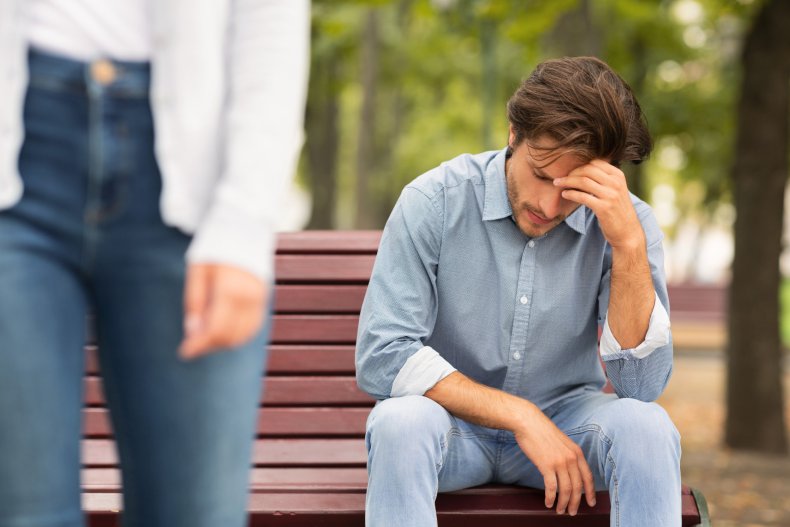 "The kids were always very distant and cold toward me," wrote the poster. "I never pushed, but I did attempt to form a bond with them. But it always felt like I was being dismissed."
When the children did move out of the home, they said that they would be uncomfortable visiting if the Reddit user were to move in with their dad. He suggested giving it a little bit longer, including going out together a few times first.
"A couple of months after that we went out, along with his parents, to see his kids and to spend time all together," she explained. "They ignored me for the most part. The one time I wasn't ignored, someone mistook me for their mom and the younger of the two kids snapped at me for not being quicker with my 'no' response."
The Redditor said she realized that, despite her boyfriend standing up for her and doing what he could, she could not do it. "I told him his kids would never be ok with me and I had waited for 9 years and they were still treating me like some pushy intruder," she wrote.
Winston's Wish is a U.K.-based charity that supports bereaved children, young people, and their families. A spokesperson told Newsweek: "Children who have experienced the death of a parent will probably feel lots of complicated emotions, including fear, anger, and confusion as this new person comes into their life.
"There is no 'correct' way to talk to your children about a new relationship while they are still grieving for their parent who has died—the important thing is communication," explained the charity.
Mark was devastated, and his parents were equally upset. But they continued to contact the Redditor after the break-up.
"They then tried to set me up on a date with Mark a few weeks ago," she wrote. "I told them they needed to put that to rest because it was not going to happen. That I was moving on with my life and they needed to let us all do the same because it was not healthy for us to be together."
After she expressed her feelings, her ex-boyfriend's parents were upset: "They said I was unfairly blaming the kids and took offense to my not loving Mark enough to endure it," said the Redditor. "I felt bad because maybe I was too harsh?"
"It's important to be clear with a child about the role of a new partner," said Winston's Wish. "Explaining that they are not a replacement for the deceased parent but they are someone who you care about a great deal and who you would like to be part of all your lives."
Replies on the Reddit post sided with the woman, telling her that she was not wrong to be upset with her ex's parents.
"If they try to approach you again just tell them that it's not their place and you're done discussing this topic," said one commenter. "Mark was allowing his kids to get away with controlling the situation."
Another reply said: "9 years was a long time to wait for them to come around. It was brave of you to leave the relationship. Wish you all the best."
"It is very healthy to stop a situation in which you know you will never be happy," advised another commenter.
Newsweek has reached out to Comfortable_Help_356 for comment.
If you have a similar family dilemma, let us know via life@newsweek.com. We can ask experts for advice, and your story could be featured on Newsweek.