Woman Praised for Leaving 'Disgusting' Husband Mocking Weight Gain to Ex
A woman has received support online after revealing she was leaving her husband because he was mocking her to his ex-wife.
On Reddit last Friday, user u/-Dog-eat-Dog- shared the story, which has now received more than 13,000 upvotes and hundreds of comments.
She said: "My husband and I met about 6 years ago. We have been married for one year. When we met I was very fit and athletic. I started gaining weight after suffering two miscarriages and the loss of my mother to cancer. I was very depressed and barely got out of bed if not to go to work."
Having gained 40 pounds during the period, she says her partner remained supportive and loving, a pattern that continued after they married.
"It showed. I have lost around 20 pounds so far and I gained back my muscles and abs. He was so happy to see me feeling better. On his computer, however, it was a totally different story," wrote the Redditor.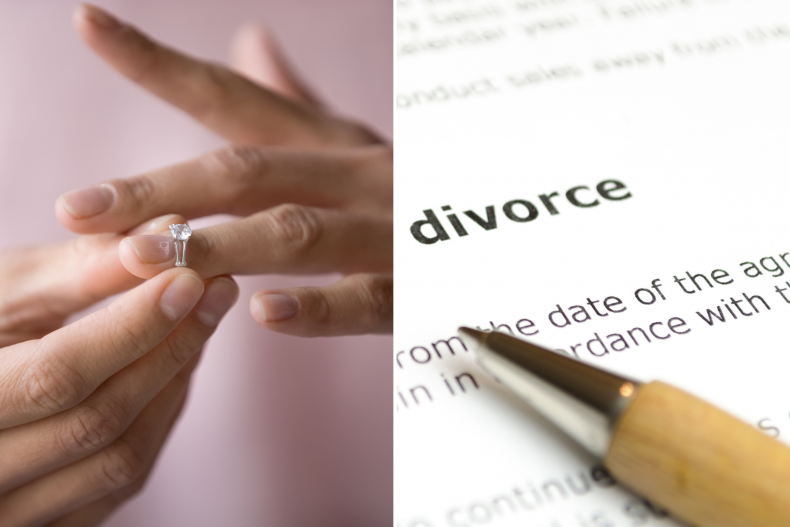 She explained that her husband's ex-wife had left him for a colleague around eight years earlier, but that they have stayed in touch via chat and texting as she lives 12 hours away. The Redditor has now discovered what the conversations had been about.
"My husband was complaining about everything about me. My job, my depression, my cooking but mostly about my weight," explained the Reddit user: "He was telling her how disgusting I was to him, how he even found it hard to share the same bed since I snored like a dog."
He had even sent pictures of his sleeping wife, sometimes in her underwear, alongside comments about her weight including "double chin" and "back boobs."
"They don't flirt exactly or talk about being together or starting an affair, but they do say that they miss each other," she explained. "Whatever he's telling her isn't what I've experienced with him. I don't disgust him. He tells me that he loves me all the time. We have great and passionate sex and the way he touches and makes love to me is so great he must be a really good actor if he was in reality disgusted by me.
"He's lying to one of us and I'm not sure if I want to know who he's lying to and why."
The woman explained that at the moment, she is acting like everything is normal at home, but has started looking for a new job in another city and a place to rent. "I also started with birth control pills, in case something happens between us," she said. "I have talked to a lawyer to prepare the divorce and start the process once I'm gone. One thing I'm not going to do is fall back into depression and weight gain. I will not allow it. What a waste of love he has been."
While the divorce rate is in decline, the Centers for Disease Control and Prevention (CDC) recorded over 630,000 divorces in 2020, with a divorce rate of 2.3 per every 1,000 people. A 2013 study by the University of Denver interviewed 52 divorced people to try and understand the most common reasons for divorce. More people interviewed blamed their partners for the divorce rather than themselves, and the most common reasons cited for divorce included infidelity, domestic violence, and substance abuse.
Reddit users overwhelmingly sided with the woman, praising her for her reaction to the situation.
​​"I'm proud of you for leaving," wrote one commenter. "Stick to your plan and be done with him."
"Well, at least he is giving you a quick way to lose some dead weight! What a f***ing a**hole! You will be much better off without him," said another Redditor.
Another reply said: "You are so strong and brave to know you deserve better and walk away. He is disgusting."
"Save the messages for divorce court," advised another reply: "Sorry he did this to you."
Meanwhile, another user simply said: "You deserve better."
U/-Dog-eat-Dog- told Newsweek: "I'm truly overwhelmed. I was prepared to be facing some judgment because divorce is a touchy subject and marriage is holy for many people. I just got confirmation that my guts are right and something is off with this relationship."
UPDATE 06/22/22 03:03 a.m. EDT: This article was updated with additional comment from the poster.