A video of a young woman confronting the men she noticed 'laughing' at her while going for a swim has gone viral, with many in the comments section praising her for how well she handled the situation.
Samantha Longton posted about her recent encounter while at the pool last week. Her video, captioned "I'm not a confrontational gal but sometimes men just," has been viewed nearly 10 million times since it was posted to TikTok on Friday.
Text added to the video gives audiences some context to the situation: "Trying to take a cute pic at the pool and I hear two men audibly making fun of me so..."
The video starts with Longton politely asking the two men, "Do you guys want one [a photo] together?"
"Say again?" one of the men asks. Longton repeats herself and he responds, "Oh yeah."
"Of course," she kindly replies. "I can take one. Do you have your phone?"
When they say that they don't have their devices on them, she says, "Oh okay, then next time."
They appear to then leave her alone, allowing her to get back to her photos and enjoying the pool.
The video, which has been liked more than 1.2 million times, amassed thousands of supportive comments from viewers who praised her "kill them with kindness" attitude.
"I can feel the bad [b***h] energy radiating from here," one TikToker wrote. "Call them OUT!!" another cheered.
Many compared her to fictional character Elle Woods, who they also praised for confronting others with a unique bubbly attitude.
"How did you muster up the courage to do this? That was the bravest thing I've ever seen!" one even remarked.
Some even shared their own recent encounters with rude male onlookers, and wished they had handled the situation as expertly as Longton.
"Yes!!!! Some guy took a picture of me today at the store and I think he didn't think I saw him but I did [and] it made me so mad," one woman wrote.
"I literally saved this so I can PRACTICE this level of even-kneeled confrontation," another noted.
On Monday, Longton posted additional footage that led up to her confrontation. As she poses for the camera in the pool, her head follows the men as they walk across the pool area.
"This is when they crossed. I stopped posing to wait for them to pass," she writes in a text-overlay on the footage.
As she adjusts her hair, "one [of the men] made a face and whispered to his friend 'look at her...this is [what's] wrong with girls,'" she claims.
"They stood next to the slide, faced me and started laughing," Longton writes. A moment later, audible laughter is heard off-screen.
"I watched them shake their heads and start laughing," she adds, before finally asking if they wanted a photo.
"What, babe?" one of the men asks.
"I can take one for you if you'd like," she says.
When they decline, she adds, "Oh okay, no worries. I could take a picture of you guys if you want to take a picture together. It's really pretty."
The video ends where Longton's initial video begins.
Again, fans flocked to the comments to praise Longton's quick thinking and polite confrontation style.
"It's the Customer service voice for me," one commented. "The level of sarcasm yet [friendliness]."
Others expressed anger that one of the man referred to Longton as "babe," calling it "rude" and "gross" behavior.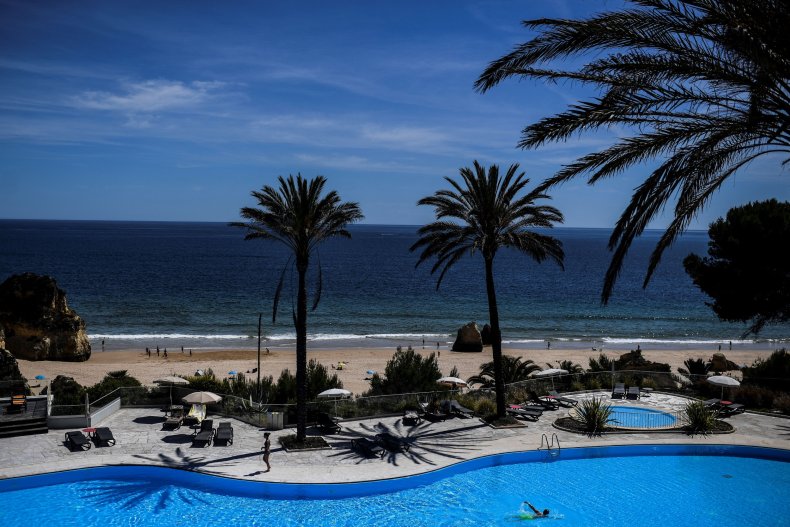 Newsweek reached out to Longton, but she did not immediately respond to requests for comment.
Alternatively, another young woman went viral on Reddit for confronting "creepy" men at a Florida beach for allegedly taking photos of other women without their consent. In her viral video, she yelled loudly for them to delete the photos they took and accused them of being "perverts."