Woman Praised for Quitting Job on the Spot: 'Unbearable Being Around You'
Viewers are applauding a woman who seemed to have quit her job over the phone without giving the customary two-weeks notice in a now-viral video.
Posted by TikTok user @davanthon, the video has amassed more than 1 million views as the woman who was featured in the clip appeared to have called her place of work.
In a brief conversation, @davanthon's friend told her manager that she is unable to come into work that day, or any other day moving forward.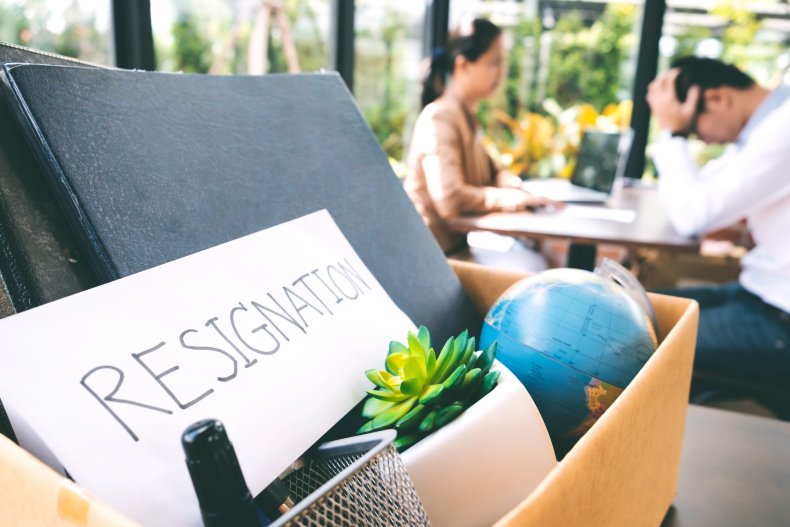 According to Indeed, most employees provide two weeks' notice when they plan to quit their job, but there are some situations that call for an employee to leave without such notice.
"While you may not be legally required to give notice, most employers expect a notice of two weeks or more to help them reassign your responsibilities and hire a new employee," the piece said.
Some reasons behind an employee quitting without providing notice include working in an unsafe or hostile work environment, when their personal health is at risk and if there have been frequent layoffs.
Those who find themselves working in a hostile work environment may decide to leave without giving notice because it can become challenging to do their work.
"Staying for an extra two weeks may even worsen your professional relationships and subject you to unnecessary abuse," Indeed said.
TikTok user @davanthon filmed his friend just as she called to say that although she was scheduled to work that day, she would not be coming in that day or "any other day."
"OK," the person on the other line said slowly.
"Yeah, so, I just wanted to let you know," @davanthon's friend said, her hands shaking slightly as she held her phone. "It's pretty unbearable being around you. Thank you."
Just as @davanthon's friend hung up the phone, the video ended.
Viewers commended the woman for abruptly quitting her job.
"That was nice of [you] to call," a viewer wrote.
"I felt that in my soul," another TikTok user said.
"Speak ur truth even if ur phone shakes," one viewer wrote.
"I'm currently sitting in the parking lot at my job rethinking my life," a TikTok user commented. "I think I needed to see this."
Newsweek reached out to @davanthon for comment.
Others have shared their stories about quitting their jobs in viral internet posts.
An employee received praise after she quit her job without giving her boss any notice when her co-worker reported her to her manager for commenting on how "insane" the job was.
Another employee quit without notice because he said he felt he was being treated like a "subhuman mule."
One man resigned from his job after his boss did not honor the number of vacation days he was promised.