Woman Pretended to Be FBI Agent to Get Free Chick-fil-A, Police Say
A woman posing as an FBI agent told Chick-fil-A workers in Georgia she would have them arrested if they did not give her free chicken, according to police.
Kimberly George Ragsdale is alleged to have demanded free meals from the fast-food chain in Rockmart several times throughout the week leading up to her arrest on Thursday.
Ragsdale, of Dallas, Georgia, is accused of telling staff she was a federal agent and demanding free meals.
However, instead of giving her fast food, staff became suspicious and contacted police.
When police confronted the 47-year-old in the parking lot of the fast-food chain, she allegedly tried to tell the arresting officer that she was a federal agent and that her credentials were electronic.
After she refused to get out of her van, officers threatened her with a stun gun.
Ragsdale was then placed in handcuffs and arrested on a charge of impersonating a public officer or employee.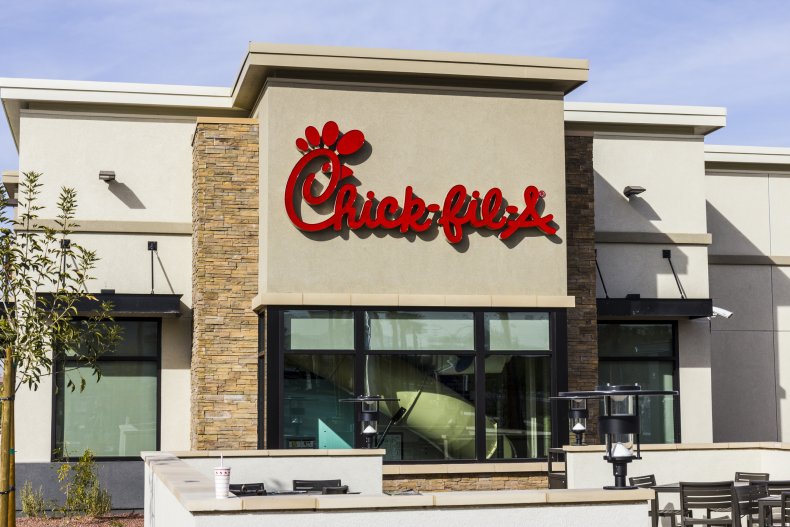 A police report stated that while in custody, Ragsdale began to "talk into her shirt like she was talking into a radio telling someone that we were arresting her and to send someone to Rockmart PD."
The arresting officer noted in his report that, when questioned, witnesses told him: "Ragsdale had been coming there for several days saying she worked with the FBI and requested free food."
Chief Randy Turner, of Rockmart Police Department, said in a media statement that officers would never ask for free food and if anyone was suspicious, they should call police.
He said: "We are thankful for the observant and professional staff at Chick-fil-A who knew what to do and gathered the info needed for us to make our case.
"We would like to inform our citizens to call 911 if someone is claiming to be an officer if they aren't in a marked car, or in a proper uniform, or if they don't have the proper credentials.
"Also, you will not hear a real officer demand a meal anywhere. If it is given, we appreciate it. If it is discounted, we appreciate it. We will not ask for it or make threats and demand it."
Ragsdale remains in jail without bond set on the felony offense, it is reported.
Newsweek has contacted Rockmart Police Department for comment and is awaiting a response.