Woman 'Proplifting' Plants at Restaurant Stirs up Debate: 'Don't Steal'
A woman's decision to "proplift" a succulent cutting while out at a restaurant has ignited an intense debate over the practice.
Proplifting involves taking cuttings or pieces of plants and using them to propagate and make new plants. It's a process numerous people follow from plant collectors to novice growers.
Proplifting itself isn't illegal, but there are, however, patents in place protecting certain plants from being proplifted or cultivated in any way, as previously reported by Newsweek.
According to Statista, 33.1 million households participated in indoor houseplant gardening in the United States as of 2019.
The TikTok recounting the situation, captioned, "Honestly proud to say I've only bought one plant," has been viewed 4.3 million times and liked 668,200 times since it was shared on April 16.
The nine-second clip was posted by TikToker @raaee____, and it began with a person filming the TikToker sitting at a table at a restaurant in front of a beverage. Plants could be seen in the background, including a trailing succulent just behind the woman.
"When someone asks, 'Where do you get all your plants?'" the screen said in text overlay with a voiceover included.
Suddenly the woman looked around and then reached over to pull a chunk of the succulent off using both hands, looking off as she did it.
The piece of the plant she had just proplifted was placed on the table next to her. Then she looked at the person filming, and she started to laugh, even putting a hand up to her mouth. She also put her head down in her arm before the video cut off.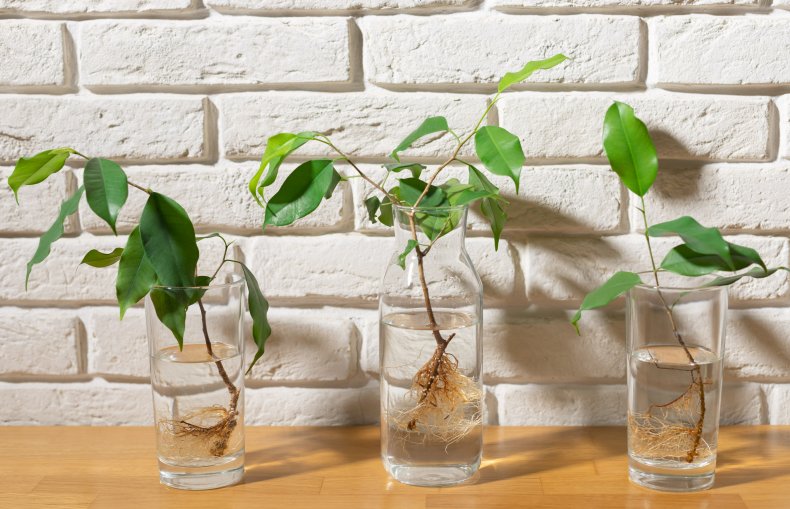 The video clip received over 3,400 comments since being shared two weeks ago, and a debate has ensued over the practice of proplifting plants.
Some people were on board with the practice performed in the video. One TikToker wondered if people realize that those who have plants "pick their plants all the time to manage growth/promote new growth, Lol. It's not damaging it."
Others think some commenters are taking the situation too seriously. "Y'all making this deeper than it is talking about proplifting, Lmao," a viewer said.
A TikToker put in their two cents, insisting that "plants are a part of nature. They're supposed to be free anyway."
However, not everyone was on the side of proplifting just anywhere. "If it's a chain (Home Depot), proplift away, but please don't hurt small businesses' plants," a viewer insisted.
Another pleaded with the TikToker: "Please do not do this. Big no no in the plant community."
While a viewer found the practice "kinda disrespectful," adding, "It's different if it's already fallen off the plant."
One TikTok user thought the woman should "just ask." They also said, "Please don't steal. It doesn't take many people doing this (or doing it wrong) to make them look bad or damage the plant."
Newsweek reached out to TikToker @raaee____ for comment.
This isn't the only viral video involving plants. A woman's garden cemetery has gone viral. A worker found an indoor garden behind a wall. In addition, a DIY greenhouse made out of thrifted picture frames is turning heads online.