Woman Pulls 13 Teeth From Patient in Dentist Break-In Without Medical License
A woman under investigation for a robbery allegedly confessed to police that she also performed oral surgery without a medical license on a patient, resulting in 13 total tooth extractions.
According to a press release from the Washoe County Sheriff's Department in Nevada, 42-year-old Laurel Eich was arrested on Wednesday. She was reportedly brought in for a line of questioning in relation to a burglary from two months ago at a dental office in Sun Valley, just a few miles outside of Reno. The office was robbed of over $22,000, the sheriff's office noted.
"On May 3, 2021 patrol deputies responded to an after-hours alarm call at a dental office on Sun Valley Boulevard," the release said. "Deputies found a door ajar, and a back window broken. After the business was cleared by K9 deputies, it was discovered that only a cash drawer was disturbed. A total $22,861 was stolen in cash and checks."
However, police report that in the midst of the burglary investigation, Eich—who reportedly worked in the dental office—confessed to having performed illegal oral surgery on a patient, despite not possessing a valid medical license.
"During the investigation, detectives identified Eich as a person of interest in the planning and execution of the commercial burglary," the press release stated. "During the investigation, detectives also learned that Eich performed 13 tooth extractions at an earlier date and time on one person.
"Eich admitted to multiple people, including detectives, that she performed the medical procedure and used anesthetic disposed of by the dental office," the report claimed.
According to the inmate records obtained by Newsweek, Eich faces a slew of felony charges, including burglary of a business, second [or more] offense, grand larceny greater than $5,000 but less than $25,000, and violation of probation or condition of a suspended sentence for a separate offense. She is being held on a $20,000 bail for the felony count of performing surgery on another without a license.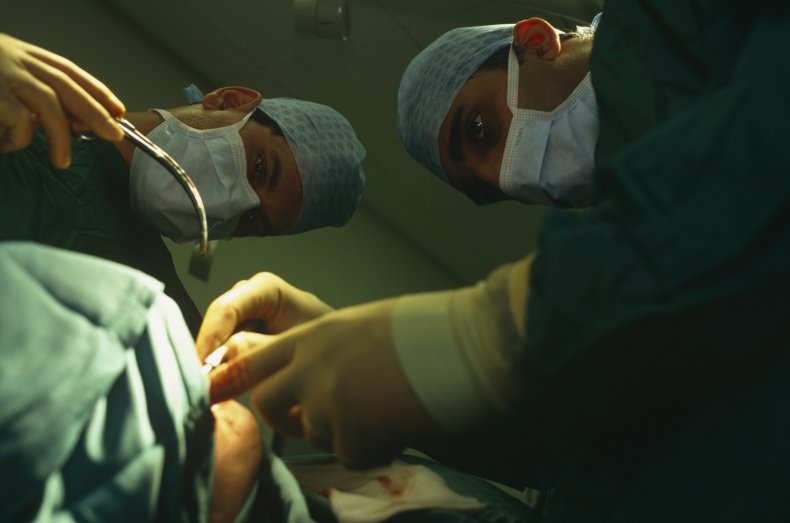 Although the specific laws vary by state, practicing medicine without a license is illegal in America. According to Nevada's Revised Statue section 200.830, "performing health care procedures [or surgeries] without a license is a Category C felony for a first offense, if the person who received the procedure suffered substantial bodily harm but did not die as a result of the unlicensed healthcare." Repeat offenders could face conviction on a Category B felony.
If found guilty, the defendant could face between 2 and 20 years behind bars, in addition to $2,000 to $5,000 in fines.
A report from KLAS also noted that as of March, Nevada state officials had received 26 complaints thus far of unlicensed health care facilities. The Nevada Attorney General's Office, acknowledging a growing number of "scammers targeting the Latino community" in particular, is working on a statewide campaign to protect patients and encourage people to report any suspect medical activity.
Newsweek reached out to the dental office allegedly affected, but did not hear back in time for publication. The Washoe County Sheriff's Office also declined to give additional comment at this time.
Earlier this month, in Kansas, a devastated mother shared how her 3-year-old son tragically died during a dental procedure to address a serious gum infection. During the tooth extraction, doctors believe he had an unprecedented reaction to the anesthetic.
In April, a Montreal veterinarian faced disciplinary action following a 2018 incident involving a massive tooth extraction operation performed on a Yorkshire terrier without the owner's consent. The dog reportedly had 19 total teeth removed.