Woman Quarantined Five Hours in Plane Bathroom After Testing COVID Positive Mid-Flight
One airplane passenger recently shared with the world what it's like to test positive for COVID-19 while mid-flight.
Marisa Fotieo, originally from Michigan and now a teacher in Chicago, was on a Dec. 20 flight to Iceland when she discovered that she had tested positive for coronavirus.
In a short TikTok video that has amassed over 4.2 million views and 1.5 million "likes," Fotieo is seen wearing a face mask inside the plane bathroom – where she self-isolated for five hours until the plane landed.
"Shout out to Iceland Air for my VIP quarantine quarters," she says in the video's caption.
In the comments section she explains that she received two negative PCR's (polymerase chain reaction tests) before hopping on the flight for a Christmas trip.
For whatever reason she had decided to bring at-home COVID-19 tests onboard for her travels. While mid-air her throat ached and she decided to test herself.
She found out she was COVID positive.
When one TikToker inquired whether it may have been a false positive, Fotieo said that crossed her mind. However, upon landing at an unspecified layover site, she was tested again and the result remained positive.
"I never made it to my destination," she added. "Quarantined in Iceland now."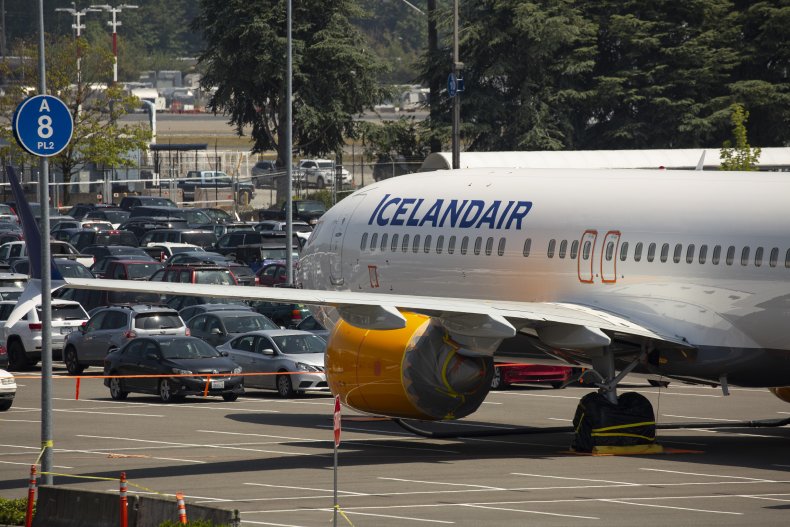 Another user asked how someone can test positive during a flight. According to Centers for Disease Control and Prevention guidelines, people who travel internationally need to get a COVID-19 viral test – regardless of vaccination status or citizenship – no more than one day before liftoff. Negative results must be shown to airlines before being boarded.
That means Fotieo could have easily tested negative 24 hours prior to the flight, yet could have contracted the virus hours before boarding.
In a follow-up video, she praised Icelandair attendant Ragnhildur "Rocky" Eiríksdóttir for helping her stay comfortable throughout the flight.
Fotieo was isolated in a Red Cross hotel upon arrival in Reykjavik. Prior to parting ways with Rocky, Fotieo said the flight attendant had shared her Instagram handle to keep in touch.
The video features a letter from Rocky along with two bags of items, including food and even a tiny Christmas tree. The care packages were accompanied by a note that read, "Enjoy my dear new friend."
It brought Fotieo to tears.
"She made sure I had everything I needed for the next five hours from food to drinks and constantly checked on me assuring me I would be all right. ... There's 150 people on the flight, and my biggest fear was giving it to them," she told NBC News. "It was a crazy experience."
When a TikToker asked if the quarantine hotel or flight back home was paid for, Fotieo responded: "Universal healthcare! Lodging, meals, healthcare are free. I will need to change my existing flight but hopefully Icelandair will help with that!"
Subsequent videos featured Fotieo trying to keep herself entertained while on a 10-day lockdown.